By Katie Sittig-Boyd
Staff Writer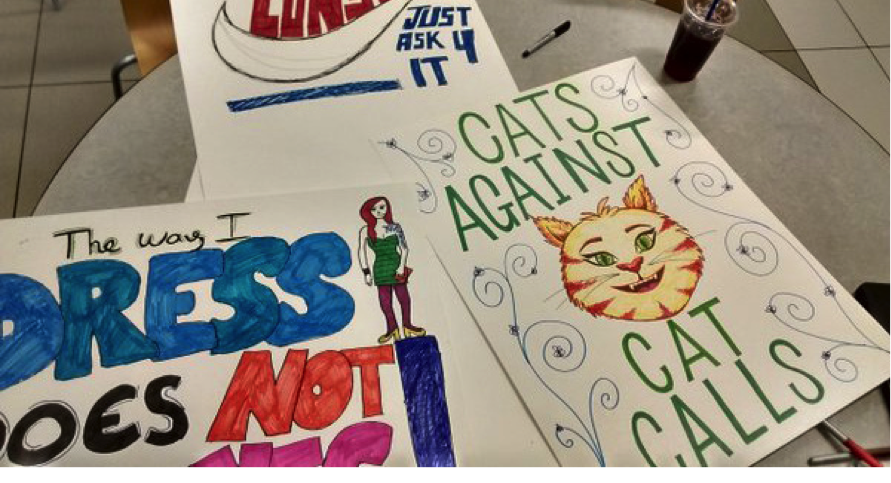 The week-long week of action addressing sexual assault, domestic violence, and survivorship, known as Take Back the Night, featured a march and survivor speakout on Thursday, April 7.
Sponsored by the Violence Prevention and Educational Outreach Program (VPEO), the Sexuality, Women, & Gender Center (SWAG), and the Colleges of the Fenway (COF), this annual march was comprised of student activists who took to the streets in order to give voice to survivors, call attention to issues of sexual harassment and assault, and call for an end to the silence that traditionally surrounds these issues.
In spite of the rainy weather, marchers resolutely followed a route from Simmons' residence campus to 300 The Fenway, and then along Evans Way, near MCPHS.
Led by lead student organizer Nicole Veneto, along with Lyra de Castro, student demonstrators held signs aloft, bearing statements like "LGBTQ Violence Is Still Violence" and "Full-Time Title IX."
The march was followed by a survivor speakout in the LKP, which was attended by several dozen individuals. The keynote speaker, Payal Sharma, began the event by reading poetry she had written. She also addressed her anti-oppression work.
"We do not do this work in silence," Sharma said. "We cannot do this work in silence and isolation. There are ways to end this issue institutionally, and those measures are powerful and necessary to take. The marches are necessary. The policies in your college and your workplace are necessary. And what's also necessary is how we do the work internally and interpersonally with each other."
Following Sharma's powerful speech, survivors were invited to share their stories in an open-mic speakout.
"The reality is that marginalized groups face disproportionate levels of violence across the board," said Veneto after the event. "If we are to enact real change against sexual assault and violence, it must be through the recognition and inclusion of the voices of people of color, trans and non-binary folks, LGBQA people, and so many more."