By Simmons Athletics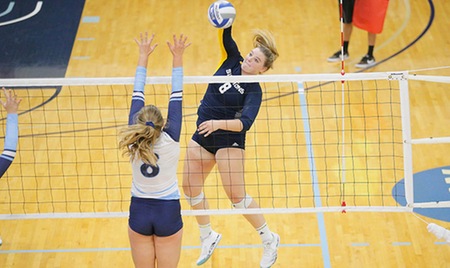 Sophomore outside hitter Morgan Weeg posted a double-double of 14 kills and 11 digs to lead the Simmons College women's volleyball team over host Emerson College, 3-0 (25-23, 25-22, 25-16), this evening at Brown & Plofker Gym in Boston. The Sharks win their fifth match in a row to improve to 14-9 on the season, while the Lions fall to 10-10.
Weeg hit .250 for the match and added an ace and a block assist for Simmons, while first year hitter Jarene Harberts put down 10 kills in addition to picking up eight digs and firing a career-high five aces. Senior right side hitter Amber Peterson contributed with six kills on a .250 hitting mark in addition to four digs and first year libero Julia Fusco got down for a match-high 22 digs and an ace. First year setter Faith Gray-Williams set for 17 assists and added a kill, a dig and a block solo.
Junior Kelley Guerra led Emerson with eight kills fueled by a .300 hitting percentage and added six digs, an ace and a block assist, while classmate Moira Brennan recorded a match-high 22 assists in addition to seven digs and an ace. Junior Fara Cohen and sophomore Kayleen Bertrand each registered double digits in digs—Cohen with 13 and Bertrand with 11. Cohen also swung for six kills.
The teams exchanged the lead within the opening portion of the first frame before the Sharks used a streak of five points to break a 9-7 deficit and take a 12-9 edge. The Lions closed to within one at 12-11 on a kill by first year Albany Alexander but Simmons pieced together a 6-1 run to bump its lead to six at 18-12. Emerson clawed their way back to take a 22-21 lead, but the Sharks put up the last four of five points to claim the 25-23 win.
The second frame resembled the first with a lead that flip-flopped between both Emerson and Simmons with the Lions pulling away for a cushion of seven points at 15-8 on back-to-back swings from Alexander. The Sharks regrouped and erased Emerson's seven-point advantage with seven unanswered points to knot the match at 15-all. The Lions carried the lead through the middle portion of the set and jumped ahead at 21-20, but Simmons registered five of the next six points to take a 25-22 comeback victory.
The Sharks banged out the first six of seven points of final frame to gain a 6-1 lead over the Lions and continued to bump its lead up to 13-6 after a kill by Harberts and a pair of Lions attack errors. Emerson began to surge and produced five of six scores to pull within a pair at 14-12 and kept a steady pace staying within three at 18-15. Simmons dominated the remainder of the set, scoring seven of the final eight points, with an ace from first year Riley Roberge to cap the win.
The Sharks will be in action again on Wednesday, October 18 when they host cross-street and Great Northeast Athletic Conference rival Emmanuel College for a 7:00 p.m. contest.