A Thousand Words: Must-visit Boston indie bookstores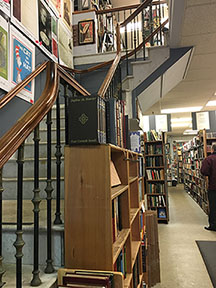 By Brittany Abuhoff
BRATTLE BOOK SHOP
Located in the Cornhill section of Boston, this bookstore prides itself on its collection of rare and antiquarian books. It is home to over 250,000 books, maps, postcards, and other items, many which are rare first editions. Owner Ken Gloss is a renowned book appraiser, specifically for his work on Antiques Roadshow.
Brattle Book Shop is located at 9 West St, Boston, MA.
TRIDENT BOOKSELLERS & CAFE
Since 1984, this bookstore has been an essential part of Boston's Back Bay community. Trident is home to a cafe with menu items ranging from challah bread French toast to Baja chicken sandwiches. It now has an event room upstairs where patrons can hold an event or come to meet the area's up-and-coming authors. It is also home to the podcast "Tripod," which discusses "all things books and Boston."
Trident Booksellers & Cafe is located at 338 Newbury St, Boston, MA.
The Boston area is home to many other independent bookstores such as Brookline Booksmith (279 Harvard St, Brookline, MA), Commonwealth Books (2 Milk St, Boston, MA) and Barbara's Bookstore (720 Atlantic Ave, Boston, MA).