By Simran P. Gupta
Staff Writer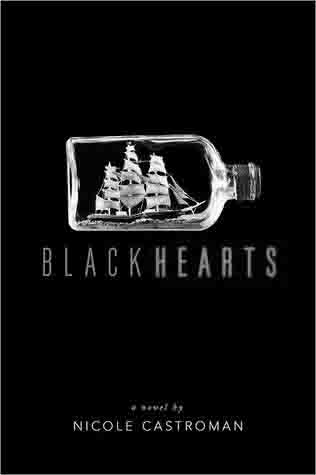 "Blackhearts," a debut young adult novel by Nicole Castroman, is a book that combines historical legend with romance. The story is based on the legend of Blackbeard the Pirate; it gives us an idea of who he was before he became one of the most ruthless pirates in history.
It takes place in 17th century England, and alternates between the point of view of two protagonists: Edward "Teach" Drummond, the son of a rich merchant; and Anne, the biracial daughter of a merchant and a (former?) slave from the West Indies.
I liked the premise of the story: the unlikely match between Teach and Anne, their desire to escape and their similar dislikes of their place in society (different though they may be), Anne's personality and the way she never forgot her worth, and Teach's willingness to stand up for her. There were also, however, a few details that I found a little sketchy, and I want to talk about both of them.
This book is advertised, both on the back cover and in bookstores, on goodreads, etc, as a swashbuckling, adventure filled romance. The truth is that until the very end, this story takes place firmly on land, with both characters planning and awaiting their escape by sea. That didn't make it any less compelling, but I do think much of the advertising is misleading.
The sequel, however, is very much a swashbuckling, heart-stopping adventure story.
The one other thing that seemed off was certain aspects of Teach's character, and from that, how Castroman wrote Anne and Patience. When Teach and Anne first encounter one another, it's during a creepy encounter at the market. He tries to coerce Anne into sex at least twice before he realizes how wrong he was.
Anne herself is Teach's father's maid- no matter how much she asserts herself, Teach is still in the position of power, and one can see that from powerless she describes herself as feeling during certain encounters.
She's also the child of a former slave from the West Indies, with a white merchant father. Though Castroman explores her relationship with her mother and her relationship with her Caribbean origins somewhat, we never get into the politics of the time: namely, slavery.
That disappointed me, because this was such a good opportunity for it.
Finally, the portrayal of Patience. Certain parts of her are certainly unpleasant: she's spoiled, entitled, and shallow. But Teach's reason for disliking her is not any of the aforementioned ones; it's that he's bored of her. They had a few years of fooling around, he's bored of her, and she's so confused that she's still throwing herself at him for his attention.
Certainly, part of it is that he's in love with Anne, but really? You don't want to marry her because you're bored of her? He definitely lost a few hero points there.
That being said, the book does a fair job intertwining romance with discussions of class and race. Teach turned out to be a pretty smart, endearing, and dashing boy. Anne is smart and wily and never forgets who she is and what makes her strong. I really loved the way Castroman develops Teach's relationship with his father, allowing us to understand the seemingly heartless Drummond while resenting his attempts to corral his son.
Teach and Anne are both fighting against rules and expectations and are both planning an escape by sea when their stories intertwine.
I do know that Castroman expands more on Anne's caribbean roots, the slave trade, and the pirate life in the sequel. In the meantime, give Blackhearts a read. Pirate legends are always as mysterious as they are fascinating, and in the paperback copy, the author even walks us through the beginnings of her fascination with Blackbeard and her research.