How to Host a Dinner Party in the Simmons Dorms
Then relax and reminisce on what a great meal you've just shared! 
Anyone can throw a box of mac and cheese on the stove and whip up a quick meal; it satisfies a craving and provides relief from the monotony of the Bartol dining hall. But what if you're craving a more elevated experience—one reminiscent of a home-cooked meal? It will require more effort, but cooking a meal from scratch is far more satisfying, especially when cooked with those we love. Here's how:
Your appetizer can be something as simple as cheese and crackers. Add sliced apples from Bartol and make a mini charcuterie board. The main course doesn't have to be complicated—often the most comforting dishes are simple and fresh. My roommates and I frequently choose pasta with varying toppings (think pesto, alfredo, or veggies with olive oil and garlic). It's smart to plan based on what pots and pans you have available. For an easy dessert, pick up ice cream or a frozen treat, pre-made cookie dough, or fruit and whipped cream.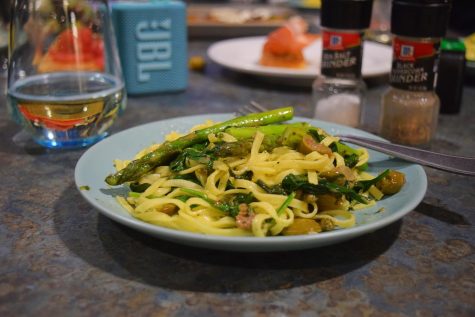 Head to the grocery store: 
Be adaptable; if you planned on sauteing spinach, but the zucchini is on sale, buy the zucchini. That being said, don't skimp on quality. I buy fresh Giovanni Rana pasta. Not only does it taste amazing, it only takes 2 minutes to cook once put in boiling water. One more thing, it's very easy to pick up spices, herbs, and fruit from Bartol. 
Gather everything to bring to the kitchen: 
When beginning to transfer everything to your kitchen, walk yourself through meal preparation. You'll need equipment to prepare, cook, serve, and clean up your meal. Have all of your guests bring a water bottle to avoid the need for cups.
Divvy up the responsibilities:
Delegate the preparation of the appetizer while you get started on the entrée or vice versa. Assign someone to set and clear the table and another person to help wash up the dishes. 
Leave the kitchen clean and ready for use by other residents. Then relax and reminisce on what a great meal you've just shared!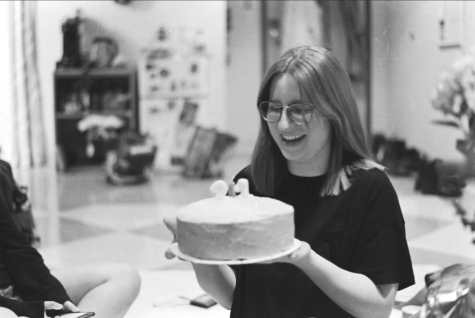 Recently my friends and I celebrated my roomie's 21st birthday and decided to pull out all the stops. For our appetizer, we toasted slices of ciabatta and let our guests pick from toppings of mozzarella, basil, tomato, prosciutto, and balsamic glaze—this alone would have made a delicious charcuterie board idea. Our one-sauce pasta was elevated to homemade puttanesca—a sauce made with capers, olives, garlic, and sardines, with added spinach and asparagus. For dessert, we cheated a bit and prepared a chocolate cake and espresso frosting separately ahead of time off-campus and assembled and decorated the cake at the dorm. It was a gift we all took part in enjoying!
CORRECTION: April 11, 2023
A previous version of this article contained an incorrect photo credit line. All contents of the article remain the same.