5 Easy Meals for Finals Week
As I've moved on from the dorming phase of my life, I've found that my new favorite way to destress is cooking. And there's no better time to destress than finals season! Here are five of my favorite easy, weeknight dinner recipes.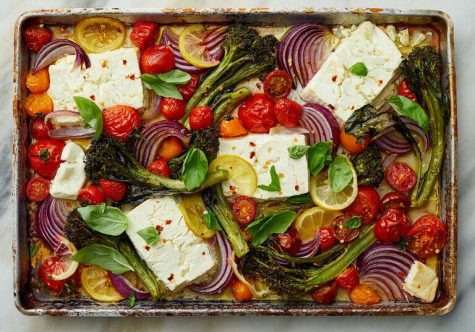 Sheet-Pan Baked Feta and Veggies 
This is one of my favorite meals of all time––creamy, delicious feta and veggies galore! As an added bonus, it only takes 20 minutes to cook and there's minimal cleanup. You can use any veggies you have in your fridge, but I prefer broccolini, rainbow carrots, and red onion. My favorite recipe is from New York Times Cooking, and I love to pair it with some orzo dressed with olive oil and fresh squeezed lemon.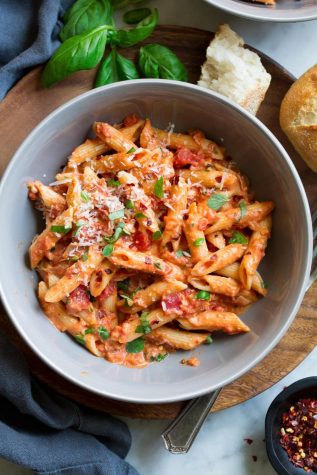 Penne alla Vodka
I am, by nurture and by nature, a pasta person. This one is simple and delicious, and it comes together in about a half hour. If you're under 21 and can't buy alcohol (like me!) you can replace the vodka with lemon water. I'd also recommend stirring in some burrata or plain mozzarella. Cheese is an essential part of my pasta endeavors. Green beans also do well with this meal. Just saute them in olive oil for about 6 minutes, or until they turn a vibrant green. Add in some fresh-squeezed lemon juice and salt and pepper to taste, and they are ready to plate with your pasta!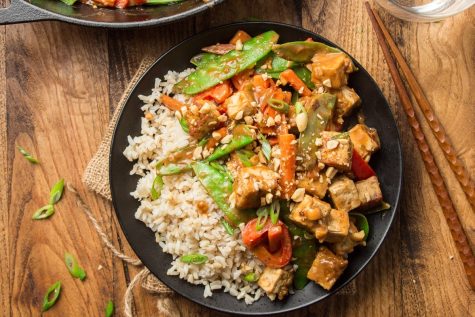 Veggie and Tofu Stir Fry with Peanut Sauce
Stir fry has been a staple in my house since my friend taught me how to properly cut veggies this summer. It may sound like it doesn't matter, but the thinner your slices, the yummier your stir fry! I use this peanut sauce recipe, but substitute white vinegar for rice vinegar, and use any hot sauce I have on hand. Sautee your tofu (pressed in a paper towel and rolled in cornstarch for crispiness) and veggies over medium heat, and serve with rice. Bonus points if you use the 5-minute frozen rice from Trader Joes––more time to study!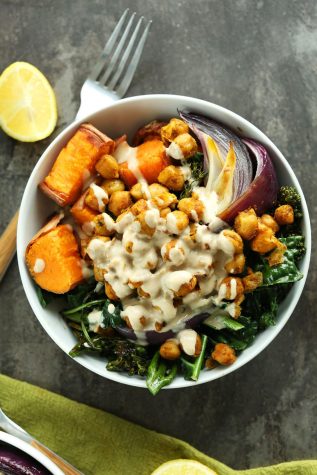 Roasted Sweet Potato Buddha Bowl
When I am feeling uninspired, grain bowls are my go to. They're super healthy, filling, and easy to make. Plus, they're good for cleaning out the fridge! The base of my grain bowls are some roasted sweet potato (can be done ahead of time) and quinoa or farro.  I add a rotating bunch of goodness to my grain bowls, but my staples are roasted chickpeas, spinach, feta, apple slices, and some kind of nuts. They're also delicious with avocado on top for healthy fats and your favorite dressing.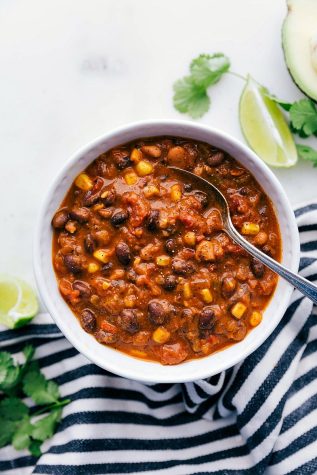 Vegetarian Chili 
This meal is a little more involved than the rest of my staples, but it is much easier than any of the other chili or hearty soup recipes I've tried. It is filling, fragrant, lightly spicy, and takes 35 minutes from cutting board to kitchen table. My biggest advice with this chili is to prep all the ingredients before you turn on the stove; once you start simmering your onions and red pepper, the process moves pretty quickly. This chili goes well with cornbread, baked potatoes, sour cream and chives, or on its own! And you'll have leftovers for easy lunches all week.