By Simmons Athletics
The Simmons College Women's Swimming & Diving Team saw 11 of its team members named to the New England Intercollegiate Swimming & Diving Association All-Academic Team, it was announced today by NEISDA.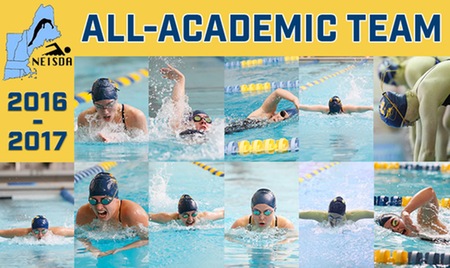 The All-Academic Team is comprised of swimmers and divers from 21 member teams, who have completed at least three full-time academic semesters and earned a cumulative grade point average of 3.5 or better, while being a team member in good standing for the entire season.
The Sharks' total of 11 topped their total of eight on last year's inaugural squad and, for the second straight year, ranked as the most among NEISDA member schools.
The following competitors were named to the squad from Simmons. Seniors Michelle Jung (Lexington, MA), Jordan Mattheisen (Seattle, WA), Hannah Plourde (Westfield, MA), juniors Abigail Gonzalez (Kennesaw, GA) and Lindsay Nichols (Kennebunk, MN) were all selected for the second straight year, while juniors Natalie Giraldi (Bedford, NH) and Michaela Morris (Duxbury, MA) in addition to sophomores Maddie Karod (Rockport, MN), Charlotte Rivard (Norwood, MA), Kara Smith (Eastham, MA) and Cassie Vietas (Tampa, FL) all earn the honor for the first time.
The Sharks won their 13th straight GNAC Championship in December and placed second at the NEISDA Championship in February for their highest finish ever at the meet. Nine Simmons competitors earned All-NEISDA status a combined 41 times, including 36 medal-efforts and 21 gold medallions. Seven Sharks competed at the Eastern College Athletic Conference Open Championship on March 3-5 and saw turned in an eighth-place showing, which was the highest finish in school annals and the top effort by any Division III school in the meet. Simmons finished with a perfect 12-0 mark during the dual meet season for the first undefeated campaign in program history in addition to breaking 14 school marks during the season, including four relays.