Investigation of Kim Jong-nam's murder raises questions
By Lisa Nault
Staff Writer
On Monday Feb. 13, Kim Jong-nam was passing through a Malaysian airport when he was assassinated with a dangerous chemical nerve agent. Kim was the eldest son of former North Korean leader, Kim Jong-il, and the half-brother of the current leader, Kim Jong-un. The attack's premeditated nature makes this assassination case one of highest priority.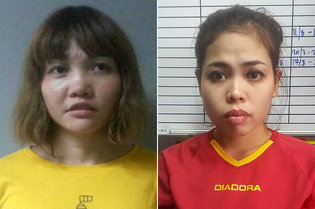 Kim Jong-nam was originally the heir apparent to his father's regime. Following a failed attempt to enter Japan using a false passport, he is believed to have embarrassed the family, and the succession went to Kim Jong-un. Around 2003, he was exiled from North Korea and began traveling with his family. Since his departure, Kim Jong-nam had been paranoid that his half-brother would see him as a threat to his reign and have him killed.
Despite the fear of assassination, Kim Jong-nam occasionally spoke out against the North Korean regime, specifically questioning Kim Jong-un's leadership capabilities. He felt that Kim Jong-un was unfit for the role and was only in such a position of power because of his genetics. He did not think Kim Jong-un could meet the needs of the people. Kim Jong-nam was already on bad terms with North Korea. His criticism of his estranged half-brother made him an even bigger target.
Although Kim Jong-nam had entered Kuala Lumpur airport using an alias, assassins still found him. The agent used to kill him was a chemical known as VX. VX is an extremely toxic nerve agent, classified as a weapon of mass destruction by the United Nations. It paralyzes the nervous system within a half hour of direct contact with a person's skin. The chemical can also be inhaled to the same effect.
A person exposed to VX experiences a sensation similar to suffocation. The dose used to kill Kim Jong-nam was so strong that it killed him within 20 minutes.
There are suspects under arrest for Kim Jong-nam's assassination. However, the exact number varies across news stations. The two main suspects are women who were at the scene of the crime. The most publicized suspect is Doan Thi Huong, who was caught on camera throwing a liquid substance in Kim Jong-nam's face. The image of her walking
away from the crime wearing a shirt that read "LOL" was spread quickly by the media and she was caught shortly after. There are claims that she thought it was a prank and not a murder, but those have not been verified yet.
North Korea has denied involvement with the murder and Kim Jong-un has remained quiet. However, the assassination caused tensions to rise between North Korea and Malaysia. North Korea requested that Kim Jong-nam's body be released to them before the autopsy was finished by Malaysian officials. Malaysia refused to comply. As a result, the North Korean ambassador, Kang Chol, claimed that Malaysian officials were conspiring with "hostile forces" during the investigation. He proposed a joint investigation between the countries, which was denied.
There are many unanswered questions around Kim Jong-nam's assassination that the Malaysian government intends to investigate further.