By Brittany Abuhoff
Staff Writer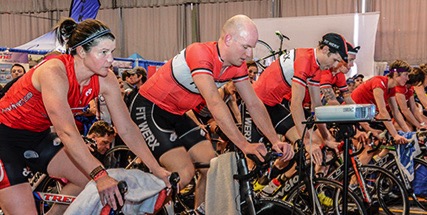 Triathletes from around the country gathered Saturday, March 19, at Boston University's Fitness and Recreation Center for the annual Tri-Mania Summit and Expo.
Tri-Mania is designed to educate, equip, and excite triathletes for the new season by hosting workshops, seminars, and clinics led by coaches and top multi-sport athletes.
"This event always gives me a head start to my season training," said Matthew Miller, 51, from a small town outside of Worcester. "By March I am always ready to race. This gives me the opportunity to do that before it even hits 60 outside."
Famous faces in triathlon also made appearances, including Mike Reilly, who gave a keynote presentation about balancing life with training for triathletes of all ages and abilities. Reilly has manned the microphone at the finish line of Ironman events for nearly 30 years and is known for his declaration, "You are an Ironman," to all who finish the grueling 2.4-mile swim, 112-mile bicycle ride, 26.2-mile run event.
Dr. Jordan D. Metzl, MD, a sports medicine physician known for his book "Running Strong" and for his work with Triathlete Magazine, presented about how to become a fast and healthy athlete through diet.
The event also held a series of competitions from indoor cycling time trials to team run relays. Leading those events were athletes from different triathlon teams across Massachusetts, including Peak Triathlon and Zoom Multi-sport Team.
Also involved were athletes from different collegiate teams such as Boston University Triathlon, UMass Amherst Triathlon, and Bentley University Triathlon.
"The events are always well organized and are a fun way to spend time with my team outside of our normal training," said Rachel, 22, a member of a collegiate triathlon team.
To find out more information about the event, visit tri-mania.com.