'A protector of people in my neighborhood': Artist Anthony Peyton Young talks about his drawing acquired by Simmons
The Simmons University Art Collection acquired Boston-based artist and SMFA alumnus Anthony Peyton Young's powerful drawing, A Prayer for Terry "Tootsie" Clark on March 3, 2022. The artwork comes to Simmons through the student-led "Collecting & Connecting" program, which is designed to diversify the University's collection. 
Young combines realism with abstraction to create thought-provoking works of art. Throughout his career, Young has examined Black ancestry, identity, and memorialization through drawing, painting, and collage. 
Tell me a little bit about your artistic background. Where did you grow up? How did you get interested in art? Where did you go to college and what did you study?
I was born and raised in Charleston, WV, and I've always had an interest in art since I was about two years old. My mom and aunt put me in private art lessons when I was about 12 years old and that when I started painting. I received my BA from West Virginia State University and my MFA from School of the Museum of Fine Arts Boston. During my time in college and graduated school I worked in a mixture of painting, drawing, printmaking and papermaking, all which I still use in my artistic practice. 
How would you describe your style and content that you produce?  
I'd describe my style as a mix of realism, abstraction, collage, and mixed media. The content of my work focuses on black/brown queer intimacy, memorializing, healing, and black/brown narratives and traditions.
Can you tell us more about A Prayer for Terry "Tootsie" Clark? 
In the piece A Prayer for Terry "Tootsie" Clark, I was inspired
by nkondi, mystical statuettes made by the Kongo  people. The main function of a nkondi is to be the home of a spirit which can travel out from its base, hunt down and harm wrong-doers, witches, or enemies. While the drawing  isn't the same as the nkondi, I was thinking of this portrait as a protector of people in my neighborhood, especially black women. In creating the portrait, I used a few different images of female African bust to create the overall figure and hairstyle and overall red color is based off of a hairstyle and outfit I remembered Tootsie wearing as a child. I wanted to make a portrait that would reference Tootsie,  but also work as a stand in for the many other black and brown women who are murdered or missing and don't normally get the Justice they deserved. 
Who are your biggest artistic influences?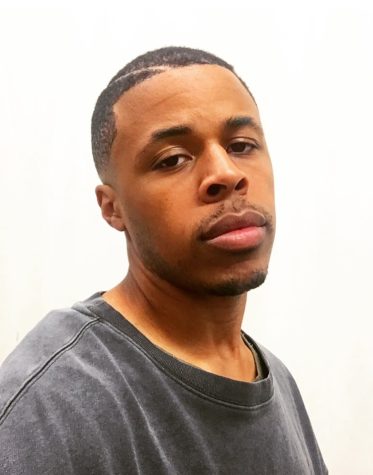 A couple of my biggest artistic influences are David Hammonds, Mickalene Thomas, Jenny Saville, and Chris Ofili 
Where do you find inspiration?  
I get inspiration from many things from family customs and traditions, films and popular culture, literature, as well as history both past and present. 
Tell me about your favorite medium to work with. Why do you like it? Has your favorite medium changed over the years?
I wouldn't say I have a favorite medium, but I do have a special comfort zone with drawing because of the control and immediacy it can have.  In terms of drawing mediums, I'd  say I enjoy working with colored pencil the most. I find it to be a very humbling medium that takes patients to get control over it. 
How has your style changed over time? 
My style has grown from straight drawing and painting to being more considerate of the materials I use to help add layered meaning to my content. I've also started to do more work with collaging drawings, where in the past I would normally just create an image taking from several sources and drawing it all together. 
How do you seek out opportunities?
I often look at other artists' CVs to see what they've done, then I'll do more research on the places and programs before applying. I also will search online artist residences, grants, and fellowships and spend the day checking out opportunities. Me and a few other friends often send each other opportunities we find in a group chat. I think it's important to constantly apply to things as an emerging artist because you'll usually get a lot of rejection at first. 
How do you define success as an artist? 
I think that Success can be whatever you want it to be, but for me it's being able to work full time on my artwork, constantly challenging my artistic practice, and also  having the support, love, and respect of my peers.
Do you have a network of other artists? If so, how do they support you? 
I have made a lot of amazing friends who are artists as well, and some of the ways they've supported me are through coming to openings, sharing opportunities, collecting my work,  and also through honest criticism. Having a strong supportive arts community is something that's really helped me both mentally and physically. 
How do you manage a work-life balance as an artist?
When I was working multiple jobs while trying to do my art, I would normally carry my sketchbook with me a lot and draw on my break or when I'd be commuting to and from work.  It's very hard to do your artwork with a full time job sometimes but it's something a lot of artists do. I normally would try to devote a day or a little time before or after work to paint or work on larger projects.  Most importantly I try to schedule things a lot in advance, but that doesn't always work out. 
What are your ultimate career goals?
I hope to create a space to help educate and support emerging artists, while also working within the community to create change.  
Join us for an Artist Talk with Anthony Peyton Young to discuss his work, including our exciting new acquisition, followed by a student-moderated Q&A on April 18th, 2022 at 6:30pm via Zoom. Register here.