Office of Student Leadership & Activities faces student backlash regarding Tyga concert
Concerns are being raised by Simmons students after The Office of Student Leadership and Activities (OSLA) posted fliers around campus announcing that they are sponsoring a Tyga concert.  
The 30-year-old rapper faces allegations of statutory rape, contacting a 14-year-old girl when he was 26, and of sexual assault and harassment. He has faced lawsuits for sexual battery, fraud, invasion of privacy, and infliction of emotional distress from multiple women, according to The Washington Post.
In an email statement from the Assistant Dean of Student Affairs, Corey Zohlman, the fliers were advertising OSLA's purchase point for tickets. The concert is being held at a local music venue, Big Night Live on Causeway Street.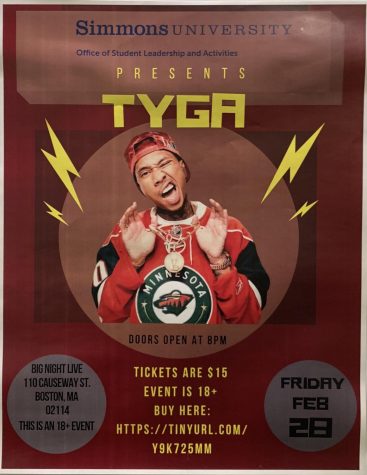 The fliers were first noticed last Tuesday morning in the Student Activities Center, as well as on bulletin boards in the Main College Building. As of last Thursday morning, the fliers were unable to be found, and the tickets were no longer available on the ticketing website provided by OSLA. 
In response to questions raised about why the fliers and ticketing link were removed, Zohlman explained through an email statement, that the tickets sold out and were "no longer available for purchase."
The Voice scheduled an interview with Zohlman; however, it was cancelled by him as the reporter was waiting. Multiple additional requests for interviews were made and later denied. 
Junior political science and economics major Julianna Hager, saw the poster in the Student Activities Center on her walk to class last Tuesday morning, and took a photo of it.
"I immediately sent it to my friend," Hager says in an interview, explaining that she wanted validation for feeling "disappointed and disrespected" by the event that OSLA has provided access to tickets for.
While his performance will not take place on the Simmons campus, Hager says that Tyga is the "antithesis" of Simmons values and of a "supportive community for womens-centered people." For these reasons, advertising an event which includes Tyga "doesn't make any logical sense," according to Hager.  
Hager voiced her concerns and disappointment in an email she sent to OSLA. She says she hopes that they will improve the process of reviewing the actions of artists before selecting events to be involved with, and consider removing itself from the Tyga concert.
"Simmons should not be giving a platform to those whose ideas aren't in line with the University's goals, and the community that it's trying to build," Hager adds.
Zohlman also noted in his statement that "OSLA strives to provide experiences and opportunities which meet the diverse needs of our (the Simmons) community, which includes the engagement of the City of Boston." He adds that "Simmons in no way endorses the behaviors or values of others." 
Senior Nutrition and Dietetics major Bonney Couper-Kiablick says that OSLA should cut ties with the Tyga concert "if it was an easy fix," going on to explain that there may be "unavoidable" factors, such as contracts, agreements, etc. preventing the ability to cut ties. 
The Voice reached out to multiple students who were in support of the concert, but did not want to be interviewed due to fear of repercussions from those opposed to the concert.
"People's opinions may be different than your own, and you can stand up for yourself, but at a certain point you have to realize you might not be changing the person's opinion," says Couper-Kiablick. "For the sake of someone's sanity, let them have that opinion even if you don't agree with it."
OSLA has made no public statement addressing the controversy surrounding the concert, which will be taking place on Friday, February 28.
Leave a Comment
About the Contributor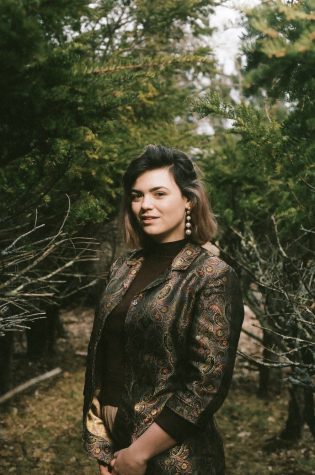 Isabelle Indelicato
Isabelle (Iz) Indelicato (they/them, 2022) is a journalism and media arts double major with minors in radio and PR/Marcom. They have been writing for the...