Ifill College Honors Beloved Professor's Mentorship with Gwen Ifill
Whenever asked who inspired her to be a journalist, there was one person Gwen Ifill always mentioned: Alden Poole, her professor of journalism at Simmons.
"He was a crusty old newspaperman but he managed to make everything seem brand-new and fresh to us," Ifill said in the 2002 book "I Remember My Teacher: 365 Reminiscences of the Teachers Who Changed Our Lives." "He took a bunch of kids who had no idea what they wanted to do with their lives and made them believe they wanted to be newspaper reporters."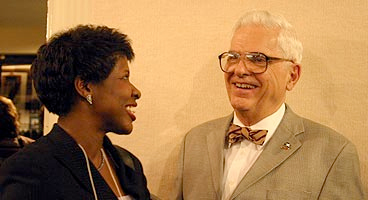 Poole was a lifetime mentor to Ifill – especially during her time at Simmons. He helped Ifill to secure an internship position at the Boston Herald-American: an experience that helped jump-start her career.
"Even though this was the 70's, it was a newspaper which was a throwback to the front page, with lots of old guys…old white guys, frankly, who'd never seen anything like me–a college-educated black woman." Ifill recalled in an article published on a Harvard website: "'And they didn't know how to deal with me. And I had Alden Poole in my head saying, 'Ah, you can do it. Just go in there and show 'em, give 'em what for.'"
That's exactly what she did. From the Baltimore Evening Sun to The Washington Post, to PBS NewsHour and moderating vice presidential debates, Ifill took the world of journalism and made it her own.
Ifill died in 2016 after a private battle with cancer. The following year, Simmons named the new Gwen Ifill College of Media, Arts & Humanities in her honor.
With the new college, Simmons will recognize the first official recipient of the Alden Poole Faculty Mentor Award. According to the Simmons website, the award "recognizes one faculty member in Ifill College who has had a profound impact on the life, career or direction of students at Simmons University." The award is meant to embody all the qualities Poole offered Simmons during his years as a professor.
"He really prided himself in being a good adviser and spending a lot of time with his students," Poole's daughter and Simmons alum Lucy Burlingame said. "He used to talk about how important that was, and how many other professors didn't give it what he thought they should."
Joanna Poole, Poole's youngest daughter and, like four of her six sisters, also a Simmons alum, said her father was committed to helping his students succeed in the professional world.
"He was incredibly dedicated to teaching and helping his students secure solid internships and jobs in journalism, a male-dominated field," Joanna Poole said.
Professor of communications Bob White emphasized Poole's skills and connections in the news industry.
"He always had one foot in the professional world of newspaper journalism," White said. "His experience was practical. Writing was a weapon for discovering and protecting the truth."
According to Burlingame, her father enjoyed following the careers of former students, especially those who went on to work in the public eye. Some of his former students included American film producer Denise Di Novi, as well as Rehema Ellis, the chief education correspondent at NBC News, and Lisa Mullins, the host of "All Things Considered" on WBUR.
"Every once in a while, he'd get cards or something from one of them, and he'd show us those," Burlingame said. "I remember Denise Di Novi, when he got sick, sent him four videos, four movies, to watch."
In a birthday card to Poole, Ifill wrote: "The lessons you taught me at Simmons still endure. I am honored to be one of your journalistic offspring."
According to Joanna Poole, her father was especially proud of Ifill's career.
"He often spoke of her as an incredibly hard worker who wouldn't take no for an answer out in the working world, which impressed him immensely given she was a woman of color in a white man's world," Joanna Poole said.
A former student of Poole's who became a close family friend, Nancy Seideman, remembers covering the Boston school committee meetings with Ifill during Boston's desegregation era.
"I know that Gwen was a particular favorite of Mr. Poole's, and he was absolutely thrilled by her career accomplishments," Seideman said. "What's especially meaningful to those of us who knew Gwen when is the fact that she was an extremely intelligent, fun, kind, generous person."
Seideman said she remembers the public tributes to Ifill by her colleagues in media.
"In listening to these tributes, I fully realized what Gwen meant to her colleagues and how she served as a role model for many women, especially women of color," Seideman said. "And I couldn't help but think of Mr. Poole because in a way, she followed in his footsteps as a mentor, cheerleader and friend."
Poole's daughter and Simmons alum, Sarah McCarty, said her father's passion for mentoring was likely a reason he maintained good relationships with his former students throughout his life.
"His office hours for consultation with students far exceeded any other professor I knew when I was at Simmons," McCarty said. "I knew students who ditched their faculty advisers and unofficially adopted my father because he had a great reputation as a mentor."
In a 1986 Simmons News essay, at the time of his retirement, Poole reflected upon his time as a professor.
"Teaching young people to write for the news media, advising them, helping them obtain internships and later, jobs, entering their stuff for awards, and above all, becoming their friend – these are the cherished highlights of my stay at Simmons," Poole said.
Poole died in 2015 at the age of 89. Joanna Poole said she appreciates that the transition of Simmons College to Simmons University will not leave behind her father's memory.   
"One of the things I love about it is that mentorship keeps giving. It's the award that keeps on giving. It's paying it forward," Joanna Poole said about the award. "If my dad can have a part of that, even be a part of other people mentoring future journalists, graduates, and women in the world, that's great."