Professor Spotlight: Kristina Markos
Her goal as a professor extends beyond simply teaching students what they need to learn to be successful.
The things we are doing today might shape the rest of our lives.
While this can be a scary thought, this is something Professor Kristina Markos says she tells her students often.
She cites being involved in her college's student-run newspaper at Bowling Green State University and doing an international journalism seminar in Paris as choices that have shaped her life and career. She began at Simmons four years ago, currently an Associate Professor of Practice and Internship Director in Simmons' Communications Department.
Before becoming a professor, Markos worked in a wide variety of areas of communications, such as advertising, content development, and business-to-business communications. She even started her own agency in Chicago at age 24! 
Her experiences across the communications industry benefit her in the classroom. Her goal as a professor extends beyond simply teaching students what they need to learn to be successful. She emphasizes wanting to make Simmons students feel confident in their abilities.
She achieves this goal by teaching Studio 5 and Social Media Analytics, her two favorite classes at Simmons.
Studio 5, a capstone course for Communications majors, provides students with real-world, hands-on experience working with real clients. Past clients include Boston Children's Hospital, Brigham and Women's Hospital, and Girl Scouts of Eastern Massachusetts, to name a few. 
About this capstone course, Markos told The Voice, "because you're actually working with clients and you're working in teams, and the success of the project often depends on your ability to communicate not only to external audiences but to clients as well and with each other. It's very hard, it's very challenging, but everyone's glad they did it. I told a student today it's like working out. You hate it when you're doing it, but then afterwards you're glad you did it."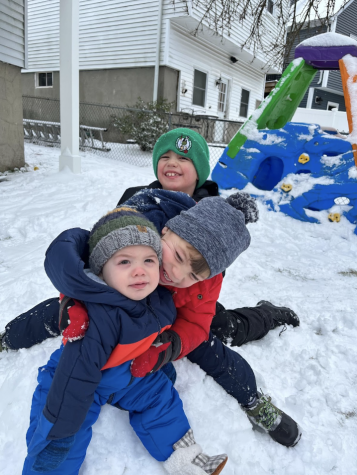 Social Media Analytics, meanwhile, is currently being taught for the first time. She explained this course's importance in the ever-changing field of communications, commenting, "For so many years at least in my discipline, in PR specifically, it was 'How do we measure this thing? How do we measure it?' With social media now, they're figuring out how to measure what we do and say 'This was effective.'"
Markos explained that while enrolled in this course, students use a software simulation to see how social media programs are performing. After the course ends, they earn a certification that gives them a leg up in the marketplace.
Outside of teaching at Simmons, she spends a lot of time playing with her kids—3 boys, all under the age of eight. As a Greek American, she is into her culture and enjoys taking her family to Greek school and church. She cited Greece as one of her favorite places to travel.
She said travel, cooking, good wine, and her students are other interests outside of work. "The basics for geriatric millennials," she joked.
As the favorite professor of many Communications students, close bonds with students are a big part of her job. She said that something that may surprise students to learn about her is that she cries every year at graduation.  
"We really do get to play a part in your development from basically child to proper adult," said Markos about the role of professors. "I don't know if you all realize the impact that you have on us."