Simmons Students Continue the Work of Bringing People Together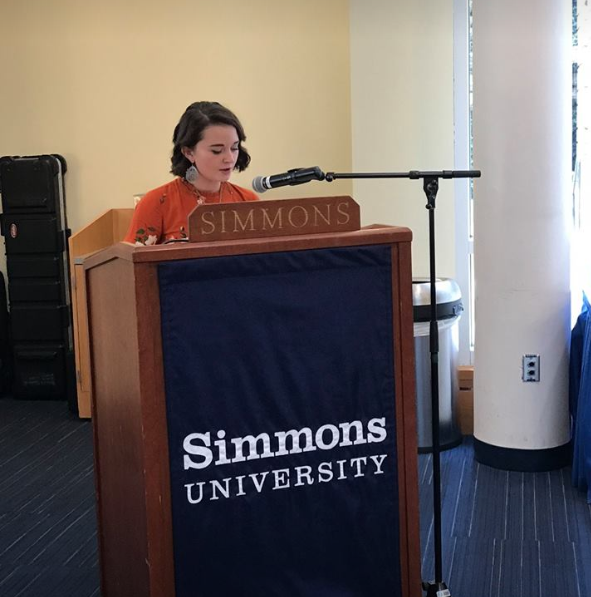 A Note from the Editor-in-Chief: Delaney Gagnon, our News Editor, was selected to give a speech during the annual Founder's Day celebrations on Oct. 23 in Common Grounds. For those who were not able to attend, The Voice has published Gagnon's speech in its entirety.
In a world that feels increasingly fractured, by politics, intolerance, resentment and anger, we realize the value in connections. By bridging gaps and reaching out to those who are different from ourselves, we are better able to see the humanity in one another. I notice that today, these bridges are largely being built by women. In the midst of discord, it is women coming forward to heal division, sow unity and take leadership positions with the intent of making the world a more inclusive and connected place.
Simmons has long understood the importance of having women in leadership positions. Founded in 1899 as a place for women to gain an education and achieve independence, Simmons became a space where they could strive to be more than the roles given to them by society. Today, Simmons students continue to defy the limits set before them. As President Helen Drinan has stated, "All Simmons University graduates will be equipped with the knowledge and collaborative skills needed to engage the complex challenges of an interconnected world." To me, an interconnected world is one led by women.
The late Gwen Ifill, the first Black woman to host a national, political news broadcast and a Simmons alumna, exemplifies the "knowledge and collaborative" skills that president Drinan addressed. Ifill's incomparable ability to connect with people in interviews and through the screen of a television, speaks to both Ifill's talent as well as the lessons she learned at Simmons. Ifill's work serves as a model for many Simmons students on how to confront the challenges that have persisted through generations. After leaving Simmons, Ifill faced vicious racism and resentment in the newsroom. She entered the field in a time when women, especially women of color, were not welcome. Not only did Gwen Ifill persevere, she became an icon in the journalism industry. Using skills and knowledge honed at Simmons, Ifill further proved that it is women who so often face head-on the most challenging issues society presents us.
President Drinan's words also remind me of Boston City Councilor and candidate for Massachusetts' seventh congressional district, Ayanna Pressley. Though not an alumna of Simmons, Pressley spoke here during my class' freshman orientation in 2017. With no Republican opponents in the general election, Pressley will become the first black woman to represent Massachusetts in national congress. She forged connections among a diverse group of voters, showing that there really is more that unites us than divides us. Pressley used her platform to elevate the voices of  people of color, the LGBTQIA+ community, families of low-income and many other populations that traditionally have to fight for recognition. She embodies the inclusivity that the world needs to heal its heightened tensions.
As a student, I look to women such as Gwen Ifill and Ayanna Pressley as models of diverse, representative leadership. Women continuously display strength in times of hardship, compassion in times of distrust and anger, and leadership in a time when many Americans feel lost. Yet, society continues to ask women to prove themselves. Women continue to face doubt. This issue represents a greater trend of misogyny in our society, making the education and empowerment of women at Simmons all the more important. Though the world continues to present obstacles for women, Simmons students can use their education to strive to become changemakers like Ifill and Pressley.
Simmons University prepares not just women, but students of all genders, to address the issues society presents us today. With an education deeply informed by social justice, Simmons graduates enter the world prepared to bring people together. With an understanding that to progress, we must find ways to connect with one another, students of every profession are able to see the crossovers between fields. Everyday, Simmons nursing students address the needs of low-income patients unable to afford healthcare because of policies decided by the government.  Our social workers use medical resources to aid clients struggling with mental illness, and students studying history use knowledge of the past to advance the causes relevant today. Socially just leaders are made here at Simmons.
John Simmons founded this institution with the understanding that to be truly independent, women needed to receive a quality education. Today, this belief continues  to be upheld. We also know that with an education, women and gender non-conforming students can be a force of good. Like Gwen Ifill and Ayanna Pressley, who challenged the status-quo and proved that there is space for everyone in leadership and powerful positions, Simmons students acquire the confidence needed to fight institutions that divide us. To leave Simmons equipped with the skills to engage an interconnected world means not only possessing the knowledge to change unjust systems, but having the courage to do so, as well.
Leave a Comment