India overturns anti-LGBTQ+ law
On Sept. 6, India's highest court voted to overturn Section 377 of colonial-era legislation that criminalized consensual gay sex, an incredibly historic moment for the country's LGBTQ+ community.
The Indian Penal Codes were put in place during British colonial rule of India detailing what was considered criminal activity in the colony. Section 377 pinpointed sexual activities that were viewed as "against the order of nature;" grouping consensual homosexual sex between adults with sex with minors, non-consensual sex, and bestiality. While some parts of the section regarding gay sex were deemed unconstitutional by the Delhi High Court in 2009, ultimately the Supreme Court overturned the High Court's decision stating that repealing any part of section 377 should be up to the Parliament rather than the Judiciary.
Pre-colonial Indian laws, religious texts, and temple art lead historians to believe that in pre-colonial India, homosexuality wasn't criminalized nor thought of as immoral. It was only when Britain colonized the country and imposed their laws and ideals that the stigma towards the gay community began, creating yet another instance of the trauma colonization has and continues to inflict.
The consequences of section 377, however, extend far past societal stigma against gay people. Many within India's gay community won't seek help from medical professionals for fear of repercussions. As Rohit Sarkar, Senior Program Officer at India HIV/AIDS Alliance told Time Magazine, "Even after a person's infection is identified, they are reluctant to go to government hospitals to take the confirmation test…Because there was not only societal discrimination but also discrimination by the law." With the repeal of section 377, Indian LGBTQ+ activists hope for reform regarding how healthcare facilities treat those within the LGBTQ+ community and creating an environment where those who need help feel safe in asking for it.
While the repealing of section 377 is a landmark decision and an incredible win for the LGBTQ+ community of India, there is still a long way to go for gay rights in India. As Mahika Banerjee, a media and communications person and an activist told teleSUR News, the repeal of section 377 is "the mere tip of the iceberg, and the queer and non-binary community in India has a much larger struggle ahead of them. That being said, I am celebrating this judgment as it is a much-needed start."
"History owes an apology to members of the community for the delay in ensuring their rights," Justice Indu Malhotra, a judge in the Indian Supreme Court said about the court's decision. "LGBT persons, like other heterosexual persons, are entitled to their privacy, and the right to lead a dignified existence, without fear of persecution."
About the Writer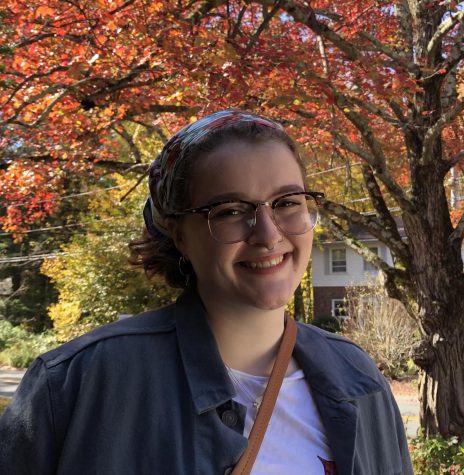 Sarah Carlon, Editor-in-Chief
Sarah Carlon (2021) is a History major concentrating on American politics and government with a Journalism minor and is the editor-in-chief of the Voice....