UK General Elections Approaching Fast
Despite Brexit chaos, the United Kingdom is still gearing up for December 12 general elections.
UK general elections typically take place every five years, but with the turbulent political scene of the last few years, this is the third election since 2015.
There are currently 650 ministers of parliament (MPs), with the Conservative party led by Prime Minister Boris Johnson holding a majority with 298 Conservative MPs. The Labour party, led by James Corbyn, trails just behind the Conservatives with 243 MPs. Every general election since 1922 has been won by either the Labour or the Conservative party.
BBC reports that in 2015, the National Health Service was the most important issue to voters. Britain's NHS is free at the point of delivery for every UK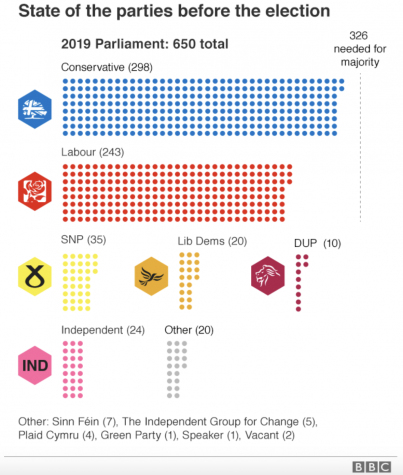 citizen and has been since post-World War II. It is a cornerstone of English public services, but has been under extreme stress over the past few years, from increased demand for expensive procedures, decreased funding, and an expanding population. This election cycle, however, has seen a skyrocketing of voter concern around the EU and Brexit, followed by the NHS, crime, the economy, and immigration.
There has been much conflict lately both between the major parties and within them– AP reports that a former member of Labour's inner circle urged voters to vote for Johnson. Smaller parties, such as the Greens, Sinn Fein, and the Liberal Democrats see this conflict between the big parties as an opportunity to sway more voters and gain a bigger foothold in Parliament. 
This election is especially critical for Johnson and those who support him and Brexit– if Conservative wins a significant majority in Parliament, then his no-deal Brexit plan will almost certainly be passed.
As politicians in the UK get ready for the elections, politicians here in the US are a little less than a year out from the 2020 presidential election and only a week post-midterms. According to a BankRate survey, the most important issue to American voters is the economy, followed by immigration, health care, and national security.