Callie Crossley discusses fake news in 'Unreality Check'
By Mackenzie Farkus
Staff Writer
As part of the Simmons College 2016/2017 Friars Leaders Program, journalist and Woodrow Wilson Visiting Fellow Callie Crossley  came to discuss the spread of fake news in contemporary society. Students, faculty, and other community members gathered to hear Crossley give her lecture titled "Unreality Check: Journalism in the Era of Fake News" in the School of Management Building on March 22.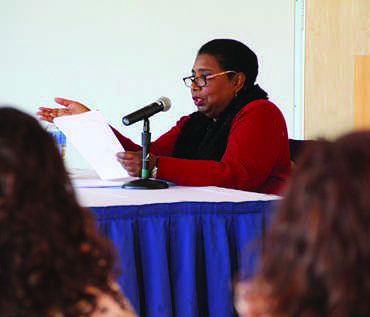 Crossley is the host of "Under the Radar with Callie Crossley" on WGBH, which airs every Sunday from 6-7 p.m. and airs on NPR's  "Morning Edition" every Monday. She is also a television and radio commentator for CNN's "Reliable Sources," PBS' "NewsHour," and PRI's "The Takeaway."
Crossley is also a former producer of ABC News 20/20, and has two Harvard Fellowships from the Nieman Foundation for Journalism and the Institute of Politics at the Kennedy School of Government. She was also a producer for the documentary film "Eyes on the Prize: America's Civil Rights Years," for which she earned an Oscar nomination, a National Emmy, and the Alfred I DuPont Columbia Award (Gold Baton).
Crossley began her lecture by discussing her childhood in Memphis, TN, in the 1950s and 1960s. Her mother, she explained,  liked to invite foreigners over to dinner every Sunday night and subscribed to a variety of newspapers in an effort to encourage thoughtful political discussions in her household.
Crossley believes that her mother's curiousity for others' perspectives inspired her to explore different viewpoints.
"You have to know every factual perspective out there," Crossley said, encouraging the audience to expand their views and where they get their news from.
While it is important for people to search for a variety of news sources, Crossley emphasized the proliferation of fake news in today's media. She described how fake news is mainly incorrect on purpose to manipulate people, comparing it to a larger version of Stephen Colbert's jokes about  "truthiness," defined by Colbert as the "quality of seeming or being felt to be true, even if not necessarily true."
"We are in a post-truth, post-fact era," Crossley said. "Do we call [the spread of fake news] an epidemic? Do we call it a crisis?"
Near the end of her lecture, Crossley quoted "CBS Evening News" anchor and managing editor Scott Pelley's speech at Arizona State University. In his speech, Pelley spoke about the threats to democracy that the spread of fake news pose to everyone in the world.
"The quickest, most direct way to ruin a democracy is to poison the information."