Max Brenner is a high quality, modern restaurant
By Paige Tarasiak
Contributing Writer
Max Brenner: Chocolate by the Bald Man is an inviting, modern chocolate-centered restaurant in a thriving area of Boston.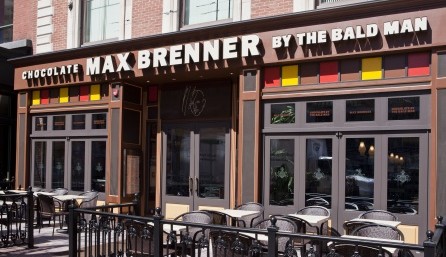 Located across from the Boston Public Library near Copley Square, this "chocolate factory" stimulates your senses as soon as you walk in the front door. Immediately, you are overcome by the modern atmosphere and sweet smells.
Max Brenner has worldwide locations, including locations in Boston, New York, and Philadelphia in the U.S. Although this restaurant is known for its indulgent desserts, it also offers appetizers, main entrees, and a bar. Max Brenner has a full menu, but what really drives the operation are the staple desserts.
It is definitely important to look at the dessert menu before leaving.
If you're hungry for dinner though, one main dish to highly consider is the cheesesteak waffle sandwich: thinly-sliced sirloin, caramelized onions, and Max's special five-cheese sauce. It's served with waffle fries and pickles.
When looking through Max's signature waffle sandwiches, this one is on the top of the list. Waffle sandwiches are not seen in your everyday chain restaurant, so if you want to indulge in the best, I recommend you go to Max Brenner.
During my visit to the chocolate factory, I only got dessert due to a price limit. My dessert of choice certainly had me feeling full. I ordered The Euphoria Peanut Butter Chocolate Fudge Sundae: rich chocolate peanut butter ice cream, dulce de leche ice cream, caramelized toffee bananas, spiced peanuts, and pure chocolate chunks topped with whipped cream and crunchy hazelnut bits.
If that isn't out of this world, then I don't know what is. The size of the sundae was bigger than my head, and I was only able to finish about a third of it.
Moral of the story, most of the desserts on the menu are meant for sharing.
The food is top-rated. High quality though, comes with a steep price. I would say that Max Brenner is not the cheapest restaurant, but you do have to take into consideration a few factors.
The chocolate factory is in a thriving area of Boston, where most things don't come cheap. In addition, the desserts are so big that it would be an excellent idea to share and split the bill with a friend. My sundae was priced at $13.95.
If split between two to four people, that price will match up to the quality you are receiving. When it comes to service and cleanliness, the restaurant was very clean and service was satisfactory. I did have to wait a while for the waitress at times when it was not even very busy, but that may have just been the waitress on duty.
Overall, Max Brenner: Chocolate by the Bald Man is most definitely a high-quality, modern restaurant located in a thriving area of Boston that is worth the visit.