A day in the life of the current Ifill dean: What's next for the Ifill College?
Grossman's shoes will not be easy to fill as Ifill College undergoes its redesign and enters its last semester with her as dean.
Diane Grossman wakes up at 4:30 a.m. without an alarm. She says that her body "just knows" when it's time to wake up. As Interim Dean of Ifill College, she tries to get to Simmons University at 6 a.m. to get a head start on all of her responsibilities. One of her most recent tasks to think about is asking herself and administration: What's next for Ifill College? 
Grossman has served the Simmons community for 37 years and says she loves her job now as interim dean. Some of her past roles at Simmons have included being a professor of philosophy and women & gender studies, Honors Program Director, and Dean of the College of Arts and Sciences. 
Tenured faculty, like Grossman, can apply for sabbatical every seven years but have to go through a rigorous proposal process. Before accepting the Ifill dean role, she was approved to go on sabbatical after 11 years since her last one. Grossman shares that she was looking forward to the "gift of time" in regard to spending more time with family and being able to work on her writing projects. 
Therefore, accepting the interim dean role "wasn't an easy decision," Grossman expresses. But after the former dean of the Ifill College, Brian Norman, left unexpectedly at the end of the spring 2022 semester, she was soon offered the position. 
In 2018, Simmons University named the College of Media, Arts and Humanities after prominent Black journalist and alum, Gwen Ifill '77. The inaugural dean, Norman, is a white man, which sparked controversy over the hiring process and upset members of the Simmons community including alums and students. 
Once Grossman accepted the year-long position, she says she was confident in her decision. She shares that being a woman, having years of established trust with faculty and students, and "knowing it was interim" made the decision easier for her. Grossman adds that because Norman's appointment was controversial, he struggled to maintain and form new relationships with donors and alums. Now, Grossman says she wants to focus on building stronger relationships and is currently working closely with Roberto Ifill, Gwen Ifill's brother.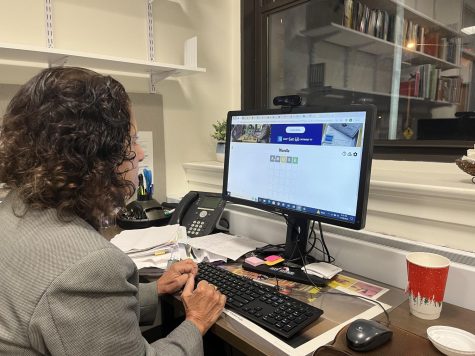 As the fall semester comes to an end, Simmons has finally started the search for the new, hopefully permanent, dean. Grossman says that the search for a dean would normally start a full year prior to the beginning of the fall semester but Simmons is already behind on the "high stakes" position. 
She attributes part of the delay to the major changes happening at Simmons, including the reorganization of the four colleges into two, with several departments moving under new leadership. 
With the new redesign, the search for a permanent dean for Ifill College is significant to the community as this dean will be leading Simmons into a brand new chapter. Briana Martino, the Acting Assistant Chair of the Communications Department, says that they hope the new dean "will be very grounded in the mission of Ifill… and has a grounding in media." 
Chair of the Philosophy Department, which currently sits under Ifill College, Wanda Torres Gregory, says that having an interim dean is "not the best situation" but it is "reassuring to know that the person who is interim is someone who has had experience as dean." 
Similar to Martino, Torres Gregory has hopes for the next dean of the Ifill College. Since the academic redesign will include several departments being restructured under Ifill's name, Torres Gregory hopes that the new dean will be, "somebody who would place the highest value on the humanities," as well as respect the balance of the sciences and arts. 
Special Faculty Assistant to the Provost and political science and international relations professor, Leanne Doherty, says that the academic redesign was an "incredibly thoughtful process." Doherty is looking forward to the change and says that students won't really be impacted and that students always come first. 
Grossman's shoes will not be easy to fill as Ifill College undergoes its redesign and enters its last semester with her as dean. Torres Gregory and Martino express how grateful they are to have had Grossman step up for the role when Norman left. Doherty says that having Grossman as interim is "refreshing" and that they've been "really, really lucky" to have her. 
As the spring semester begins, Simmons University will continue its search for an Ifill dean and Grossman will continue to wake up at 4:30 a.m. and make her hour-long commute. She hopes that the next dean will be "successful, to be a real leader for Ifill, to understand what Simmons is like… [and be] a leader who loves Simmons," as much as she does.
As of right now though, Grossman jokes, "my whole family is making bets" that she's going to continue being interim next year, to which Grossman replies, "who knows… who knows."