David Kane's STAT 118 course canceled during student-led protest
Student protestors filled two rows of seats in David Kane's Intro to Statistics course on Friday afternoon. Within minutes, every seat was taken and students were searching for places to sit on the ground.
As students entered the classroom, Kane said, "we're having a protest today, I hope you don't mind."
Just over halfway through Kane's class period, Simmons administrators informed students it would be his last.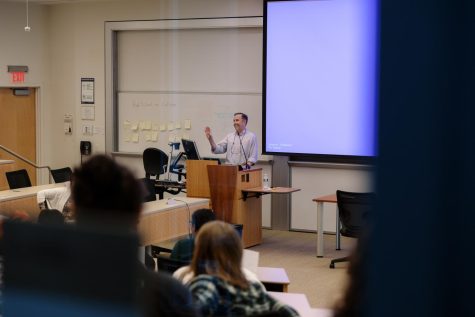 The protest was organized by junior communications major Naleigha Evans and called for the immediate dismissal of Kane as allegations of racist blog posts resurfaced.
After learning of the allegations, Simmons created a new section of STAT 118 providing students an opportunity to switch out of Kane's class. During the protest Interim Dean of the College of Organizational, Computational and Information Sciences (COSIS) Sanda Erdelez announced that the number of students who transferred out of the class caused enrollment to fall below the minimum threshold, resulting in its cancelation.
According to a statement made by Simmons Provost Russell Pinizzotto, Kane's contract will not be renewed.
While Kane did not admit to being the author behind 'David Dudley Field '25,' he confirmed that he wrote a post about Black students' admissions into Williams College.
During the protest, a student asked Kane "did you or did you not compare Black Lives Matter to a white supremacist organization?"
"I compared Williams College – so the question was how much freedom of speech and expression to Williams students be allowed," responded Kane. "Williams at the time was considering punishing students for having – a class was joking about white supremacist Identity Evourpa, but there's debate about the particular instance (sic.)"
Discourse between Kane and protestors continued until Dean of COSIS Sanda Erdelez announced that due to the low enrollment in his class it was officially canceled. Students began clapping as Kane walked to the door.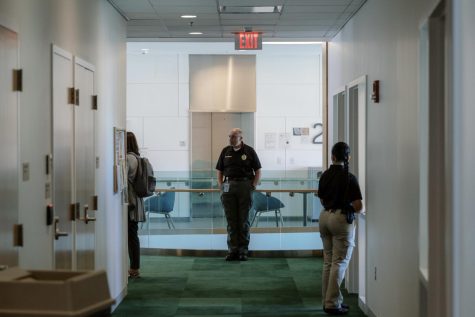 Kane requested Public safety to escort him out of the building.
As Kane left the classroom the Voice asked for a statement. He declined to comment. 
In an interview, Evans said that she became aware of Kane's alleged posts on Thursday afternoon as her class discussed the Voice's original article. 
"I had to leave class because it was a lot, especially as a person of color at a predominantly white university and somewhere that prides themselves on diversity and supporting their students of color," said Evans. "It's just like, this goes entirely against everything that they've told us and preach to us."
After witnessing the reaction of fellow students and reading more about Kane and the blog that he ran, Evans began planning the sit-in. "I thought somebody needed to do it," she said. "I figured I would take that step and kind of try to stand for the Simmons community because I know as a whole we're not happy about it."
Evans told the Voice that she thought the only way to raise awareness and get the situation "resolved" by Simmons administrators was through protesting.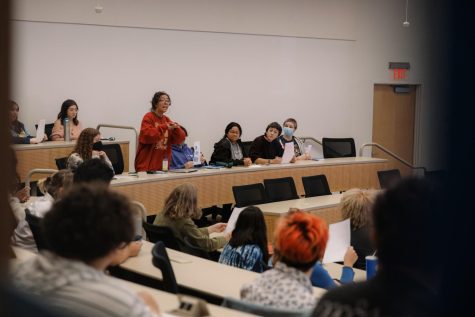 During the protest, EriKa Monfort, Director of the Multicultural Center, announced that the Center is planning to have resources and house safe spaces for students affected by the hiring of Kane in the upcoming week.
Simmons President Lynn Perry Wooten made the following statement to the Voice: 
"Simmons respects the right of student free expression, and we believe that sit-ins, protests, and peaceful demonstrations are important forms of that expression. Many students have understandably expressed concerns about past statements reportedly made by Professor Kane, which run counter to the Simmons mission of fostering a respectful and welcoming environment. We appreciate the passion of our students and their commitment to standing up for equity and social justice. First amendment issues are often difficult to navigate, particularly when we disagree with an individual's views. In the coming days, Simmons will host a meeting with students, and we are also reviewing HR best practices." 
While questions remain about the nuances of academic freedom and student concerns of discrepancies between Simmons' stated commitment to inclusion and equity and actions, Evans said that the cancelation of Kane's class is "a small win in a larger game."
"The university definitely has work to be done on the policy side of things but the students showing out the way we did today was a turn in the right direction," added Evans. "The outcome of today was way more than I expected honestly and I'm so proud of our community."
This is a developing story. Please check back for more on this situation in the coming week.