Controversial former Harvard professor David Kane hired as Simmons adjunct
An invitation from Harvard preceptor David Kane to a guest speaker for his Gov 50 Lecture Series quickly spiraled into controversy in September of 2020. Kane was hired by Simmons to teach a section of Introductory Statistics leaving questions about the University's stated commitment to inclusion and equity when hiring adjunct faculty.
According to Harvard students, for years Kane authored racist, sexist, and homophobic posts under the pen name "David Dudley Field '25" on the website EphBlog. He founded the site in 2003 for affiliates of his alma mater Williams College which he graduated from in 1988 with degrees in economics and philosophy according to his LinkedIn page.
Some of the most damning of the posts made by 'Field' discuss "Black Supremacy" in the NBA, the assertion that "over 90% of students at Williams College would not have been admitted if it were not for their "Black'ness" [sic]", and "question Williams' condemnation of white supremacist group Identity Evropa without similar condemnation of Black Lives Matter."
Kane's blog and alleged posts were found by Harvard student Alexis Queen after he invited Charles Murray to speak as part of an optional lecture series for Gov 50 students. The lecture was about his most recent book "Human Diversity: The Biology of Gender, Race, and Class."
As reported by the New York Times, Murray has authored multiple books that have been discredited on "moral, political and scientific grounds." Murray has claimed that there are differences in intelligence between classes, races and ethnicities. In "Human Diversity" he challenges the concept that gender and race are constructs, and that class is a function of privilege.
In an interview with the Voice, Queen said that when classmates began tweeting about Murray being invited to speak, she did a Google search on Kane and found his blog on the second page of results. "It was not heavy research," she said. "I would not have put heavy research into it."
After looking through the website she learned that Kane was the creator of the blog and that a post made by "David Dudley Field" in 2014 was signed "David Kane '88."
Harvard student and Ops-Eds Editor of the Harvard Crimson Jasmine Green was also in Kane's Gov 50 class. They recall a message that Queen sent to the class via Slack saying that Kane's posts were endorsements of white supremacy and anti-Blackness.
Responding to Queen's message in the Slack channel, Kane wrote "I can assure you I do not endorse 'white supremacy and anti-Blackness.'" He has neither confirmed nor denied authorship of posts made by "Field."
Queen's discovery of the posts led to extensive coverage by the Harvard Crimson, most notably the in-depth article published in May of 2021. 'The Rise and Fall of David Kane" explores older controversial posts published by 'Field.' An excerpt from their findings is as follows:
On the blog, 'Field' claimed that there is no need for Williams to have a Women's Center, noted that, during the author's time at Williams, he was "widely known as the campus homophobe," wrote that "'Sexism in the elite workplace' is 95% fantasy" and about his distaste for what he calls "crackpot feminist quackery," made a defense for Williams students who used homophobic slurs, proposed Willams professors should come together to discuss racial differences in IQ, claimed that the reason Williams has had fewer female students as commencement day speakers was because of the biological differences between men and women, challenges the notion that Japanese internment was immoral while linking articles in defense of racial profiling, and says that xenophobia isn't necessarily a bad thing.
With the posts readily available to be found by Queen back in 2020 and the Crimson's coverage of the situation, she said that it is "earthshaking to hear that he got hired again so easily."
According to the Crimson, Kane's one-year contract with Harvard was not renewed by the Government Department in 2021.
The Voice spoke to three first-year students in Kane's Introductory Statistics class; the students have been granted anonymity as to not affect their standing in the class. While trying to find Kane's RateMyProfessor profile, the students instead found the aforementioned articles by the Crimson, wondering how Simmons could have missed the information regarding Kane's past in the hiring process.
All three students emphasized their discomfort attending class: "We dread it. Every single day we don't want to go – every Monday, Wednesday, Friday." As first-years, they say that they feel confused by inconsistencies in Simmons' portrayal of inclusivity and Professor Kane's past. "It's such a juxtaposition of what their values are to then hire this person."
With some of 'Field's' blog posts using data to support his racist claims, Queen and Green both believe that Kane's usage of data could impact what is taught in MATH 118 at Simmons, even though it is an introductory course.
According to the Simmons Undergraduate Curriculum Committee changes from the original course syllabus are not permitted to exceed 25%. Upon comparing Kane's syllabus to a syllabus of a different section of Intro to Statistics, the Voice noted the discrepancies exceed 25%.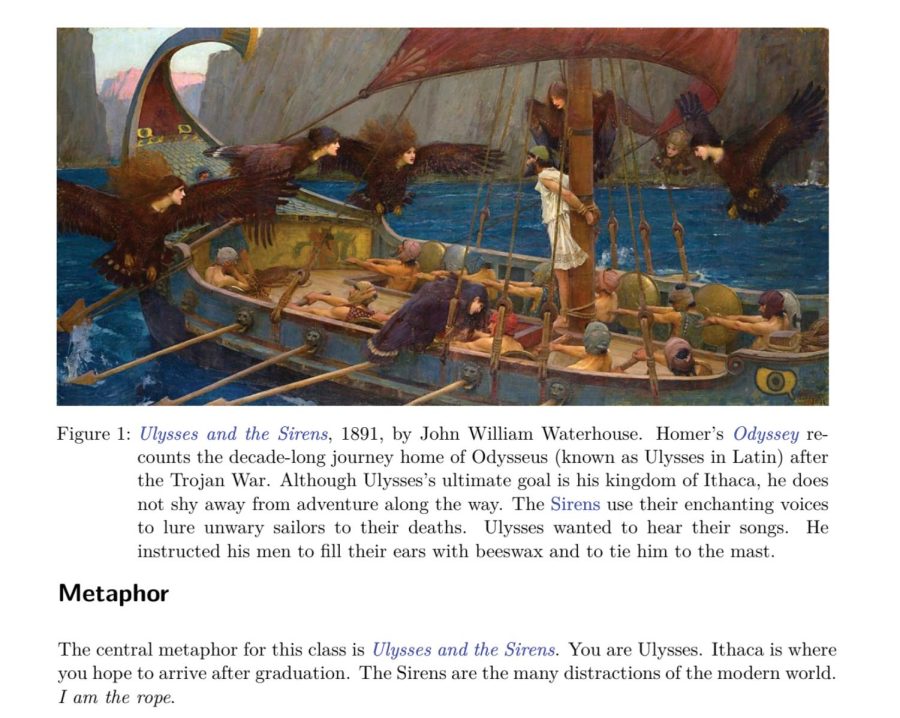 In an interview with the Voice, Gary Bailey, a professor of practice and assistant dean for community engagement and social justice and co-chair of the Advisory Council on Diversity, Equity and Inclusion, said that there are a variety of ways to be a faculty member and that it "means a lot of different things to a lot of different people."
Bailey noted the differences in the search process for tenure track, contract and full-time faculty compared to adjunct hires which is not unique to Simmons. "People don't understand how academia works. We're very complicated. And Hierarchical."
The Voice asked five students in Common Grounds if they knew what 'adjunct' meant and entailed, and if they think that they should be held to the same standards of upholding Simmons' mission and values as full-time faculty.
While only one student was able to loosely define what 'adjunct' means, they all shared the belief that they should be held to the same standards.
Emily Lopez, a sophomore studying biochemistry said that even if a faculty member is not committed to a longer-term contract they "shouldn't throw the (Simmons) mission out the window."
Simmons' Assistant Vice President of Communications Laura Wareck said that while there is not an adjunct-specific handbook, "faculty hires do receive the faculty policy manual and an employee handbook." She also stated that all new hires receive online DEI training modules to complete.
The following is the full statement from Simmons University Provost Russ Pinizzotto about Simmons' stated commitment to inclusion and equity:
"Simmons is committed to fostering an open, respectful, and inclusive environment where all community members feel welcome and empowered to live, learn, and work together. We do not support any statements or positions that contradict this commitment, because they run counter to who we are as an institution. The information about Professor Kane's statements did not surface during the hiring process, and students that would like to transfer out of his course this semester may do so without penalty. While we may sometimes vehemently disagree with an individual's views, we support freedom of speech, in part because of the historic importance of this principle. We will continue to monitor the situation and communicate additional updates if needed."
Wareck told the Voice via email that there will be support for students impacted by the hiring of Kane through the Counseling Center and REEF Support Center.
At the time of publication there is no information about options for students in Kane's section of STAT 118 to switch to another section as all six are currently waitlisted according to Workday.
Kane was unavailable to meet in time for publication.