What Ed Markey's victory says about young voters
"I think this shows how powerful the youth vote and youth mobilization can be. The number of young folks eligible to vote is growing and if we can mobilize this population, I think we'll be unstoppable."
On September 1, 2020, something extraordinary happened. For the first time in American history, a Kennedy lost a Congressional bid in Massachusetts. (Yes, really.)
Rep. Joe Kennedy III and incumbent Senator Ed Markey spent the last few months campaigning fiercely for the chance to represent Massachusetts in the Senate. Despite Kennedy's family's deep ties to Massachusetts politics, Markey won 55.4 percent of the electorate, compared to Kennedy's 44.6. Markey even gained more votes than Kennedy in Newton, where the young representative lives. 
As many Americans are more critical than ever of the age of their leaders and preferring younger representation, a decisive victory for a 74 year-old incumbent Senator over a 39 year-old fresh-faced representative in a generally liberal state like Massachusetts seems backwards. 
So how did Markey win?
The secret to Markey's success isn't just the electorate's faith in his ability to do the job, his Congressional record or his progressive stance on numerous issues– Markey's special sauce was the way young voters mobilized behind him.
— Students For Markey (@Students4Markey) July 24, 2020
Merrill Pecci, a fourth-year political science and economics student, articulated that the difference in the Markey campaign was the intentional inclusion of young voters.
"The most you'll hear is 'young people are the future,' but there's no space being made for them," Pecci explained. "There's criticism of their goals and needs, and there's general condescension and a clear attempt to keep them out of office. So where Markey stands out is his very intentional inclusion of young people in his campaign and his willingness to list them up and make them visible to a less performative degree."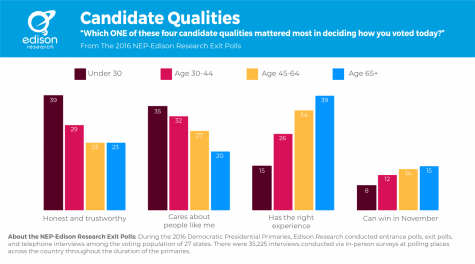 Lennon Sherburne, a third-year political science major, interned with the Markey campaign this year hosting weekly phone banks, working with regional organizers on community outreach, and helping produce the Students for Markey podcast "The Markey." 
For Sherburne, the youth vote ignited the incumbent's platform "in a way we've never seen before."
"While Markey is older in age, his values and ideas are youthful, and I think we recognized that," Sherburne said. "Markey is pushing for crucial, life-saving legislation that impacts not only his generation but the one that follows: our generation."
Markey's win extends just beyond a senate seat in Massachusetts, however. The way in which young voters across the state galvanized behind his campaign and his policies speaks to a larger trend: the younger generation is politically tuned in.
In 2016, the youth vote was projected to have a huge impact on the election. NPR reported that in 2016, Millennials, (people aged 18-35,) constituted roughly 31% of the electorate, the same percentage Baby Boomers made up. 
However, it became clear that the younger bloc did not show up in the hordes that were expected. The Center for Information and Research on Civic Learning and Engagement (CIRCLE) at Tufts' Tisch College estimated that only half of the eligible youth voters participated in the election. Millennials counted for 31.3% of the overall vote compared to Baby Boomers' 48.1%, according to the Pew Research Center.
Things are undeniably different this election cycle. Gen Z voters are projected to make up one-in-ten of the eligible voters, up from just 4% in 2016, according to the Pew Research Center.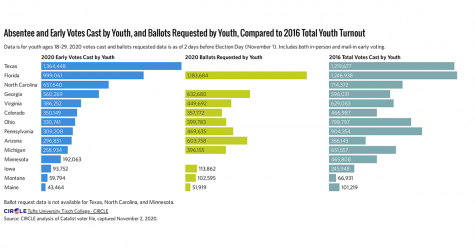 Just because there will be more eligible voters who are Gen Z'ers doesn't necessarily mean that they will show up at the polls, though. But current trends like Texas' record youth voter turnout of more than one million before election day, 63% of young voters saying they will "definitely be voting" compared to the 47% who said the same in the fall of 2016, Gen Z activists and organizers like Amarianna Copeny and Irsa Hirsi and widespread mobilization on social media apps like Twitter, Instagram and TikTok, one thing is for sure– Gen Z's voice will be heard this year.
On a smaller scale, Markey's win is just another way that the youth vote is showing their strength and proving that their support could make or break a politician.
"I think this shows how powerful the youth vote and youth mobilization can be. The number of young folks eligible to vote is growing and if we can mobilize this population, I think we'll be unstoppable," they said. "Senator Markey always says, 'Don't agonize, organize,' and this campaign is a prime example of that."
For more 2020 election coverage, follow The Simmons Voice on Twitter and Instagram. We want to know how you're spending election night. Send us pictures and anecdotes on social media or at voice@simmons.edu.