Opinion: Skip the mail, find a dropbox: a message to mail-in voters as November 3 draws near
With what some are calling the most consequential election of our time less than a week away, many Americans have already carried out their plan to vote. Whether it be by mail, via absentee ballot, through early voting, or on November 3, your voice and your vote matters.
However, as of today, October 30, if you plan on voting by mail, you should not rely on the postal service to help you cast your vote. This is amidst a nationwide decline in the speed of the mail due to COVID-19, as well as President Trump's efforts to curtail the USPS ahead of what he expects to be a contentious election.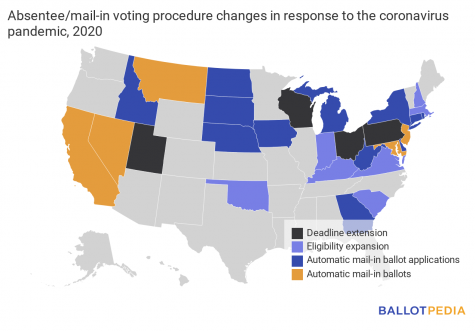 Mail-in and absentee votes are incredibly valuable, and a great way to exercise your most precious civic privilege while being mindful of the health and safety of your community. Unfortunately, it is likely that any ballot postmarked from this point forward will not be received in time, and therefore not counted as part of your state's voter turnout. This is especially crucial for Simmons students living in swing states, notably Arizona, Florida, Michigan, North Carolina, Pennsylvania and Wisconsin.
While it may be a little too late to mail your ballot via the postal service, students who have planned to vote this way needn't fear. Depending on your area's population density, your municipality or voting precinct should have direct ballot drop boxes––typically located at town or city halls––that safely collect ballots without involving the postal service. However, you should not expect this location to be the same as your typical polling place.
It is crucial to acknowledge that this situation is not the fault of the USPS, but instead the fault of the conditions that have brought us to a place where both a global pandemic and a president have repeatedly undermined the importance of the postal service.
We can prevent this from happening next election by getting flu shots, wearing a mask, buying stamps, sending a letter to a friend to support the USPS, and most importantly, by making sure our votes are counted and our voices are heard.
Voters who planned on voting via mail-in or absentee ballots can find resources regarding their state deadlines here https://www.vote.org/absentee-ballot-deadlines, and can locate their local ballot drop box here https://www.vote.org/dropbox-locator. Voters wishing to track their already sent mail-in or absentee ballots can do so by googling "track my ballot (insert state name.)"
Happy voting, Simmons community!