Remembering Nikolay Kurmakov
"He taught us to care for each other. He created an environment for a team. We were taught to look out for each other and he called us a family."
On October 1, former Ukrainian and Soviet Union National Rowing champion and head coach of the Simmons University Crew Team Nikolay Kurmakov passed away while rowing on the Charles River. He was 68.
Kurmakov coached the Simmons Crew team for nearly 30 years, and was an active member in the Boston rowing community; coaching the Women's Sweeps teams at Riverside Boat Club, and racing in his spare time.  
Before setting roots in Brookline at the age of 42, Kurmakov, his wife Laura and their two sons were situated in Kiev, where he was a national champion rower.   
During his first few months in the Boston area he drove a taxi before he began his job at Simmons and the Riverside Boat Club as a part-time coach.  
In 1997 at Riverside, Kurmakov "took the reigns" of both the club and masters women's sweep rowing and "built a dynasty," according to the 2008 publication "A Brief History of the Riverside Boat Club."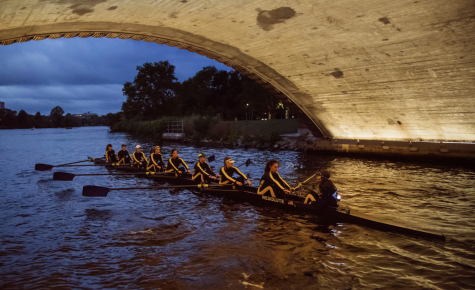 Around this time, the Simmons Crew program became displaced due to Boston University's decision to rebuild their boathouse. At this point as the head coach at Simmons, Nikolay asked Riverside for permission to set up a trailer, and row from the Riverside docks.  Since then, the Simmons Crew team has found a home at Riverside.  
During his time as the head coach for Simmons crew, the crew team rose to new heights.
In 2006, Simmons earned medals competing at the New England Fours Championship, the ECAC Championship and the world-renowned Head of the Charles Regatta. Simmons also won the New England Fours Women's Division Championship 2007 and 2008.  The Varsity Eight rowed to a first place finish at the 2009 Seven Sisters Regatta.  Following in the spring of 2010, they were also ranked as high as seventh in the nation.  
Sharks First Varsity Eight were nationally ranked for six consecutive weeks in 2016.  This also included a number 11 national ranking during the season. In 2018 and 2020, Simmons Crew members also received votes in the national poll. Additionally, Nik coached multiple All-Americans rowers during his tenure with the Sharks. (Simmons Athletics.)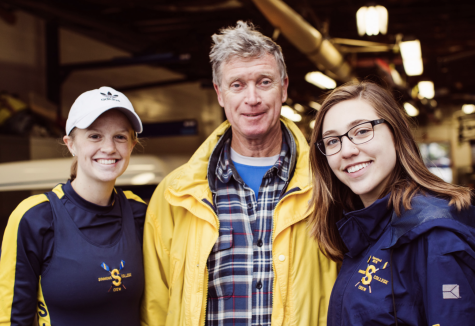 Since his passing, Dike said that social media has played a role in showing "what a profound impact he has made on so many people, including people who maybe only showed up for a couple practices."
Steffi Gaehde, who is a senior and current captain, spoke on the principles that Kurmakov instilled in the team. 
"He taught us to care for each other. He created an environment for a team. We were taught to look out for each other and he called us a family," Gaehde said.
After being sent home due to the COVID-19 pandemic, Gaehde says that Kurmakov called every team member, at least 30 people, to make sure that they and their families were safe and healthy.
"Nik created teams," said Gaehde. "It wasn't an individual sport — and he wanted more than just speed."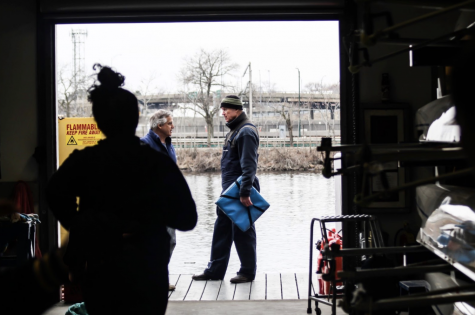 Many memories of Kurmakov have been shared by current and former members of the Simmons crew team on social media. From posts about how the beauty of the sunrise over the Charles was never lost on him despite seeing it nearly every day for over 25 years, his love for the geese, to his ability to connect.
Chloe Feuerstein, a 2020 Simmons graduate and crew team member echoed this, and remembered the times that Kurmakov would point out the sunrise over the Charles.
"He used to stop us in the middle of a morning practice so we could look at the sunrise. He loved a good sunrise," Feuerstein remembered.
Dike shared a memory from the spring season of her sophomore year from a practice in the basin of the Charles. Kurmakov was sitting as a passenger in the launch as the team was doing power intervals. "I remember Nik harping on our technique earlier that morning," says Dike. 
Suddenly Dike says that something suddenly "clicked" with the whole boat, "we were all able to drop our blades in the water at the same time and really pick up speed with every piece. I remember Nik screaming "You can do it ladies!" and even standing up on the launch as we entered into a power piece telling us to give it our all."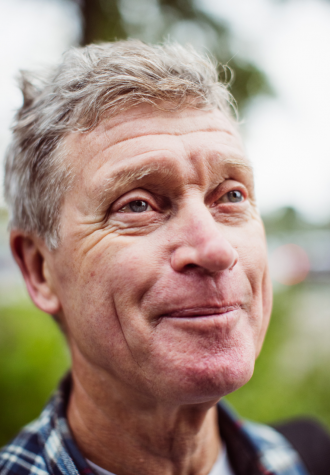 "That's sort of the thing about crew," says Dike. "There are times when it all comes together and you feel like you're flying; it's the reason we get up every morning, and I know it's what is so special about the sport that keeps people, like Nik, rowing their whole life. At the end of the piece he said one of his favorite lines: "Absolutely amazing, let's head home." 
"It's hard to know where to start when talking about Nik," said Feuerstein. "He really was like a parent to us. Ready to congratulate you, but also ask what your next goal is. He taught me to never be satisfied with stagnation or good enough– always reach for the next goal."
Feuerstein remembered on the last day of practice last year, after the crew team got the news that Simmons had cancelled the rest of the spring semester, Kurmakov let the team have a lighthearted practice. Feuerstein recalled the upperclassmen vs. underclassmen race, jumping in the water, fooling around in the boats; even exploring parts of the river the team had never seen.
"He just clearly knew we were all scared and worried about our future and wanted to make us feel better. He knew he was sending off the seniors with this row so he let us be silly and have fun! We all left laughing and with big smiles," Feuerstein said.
For the hopeful spring season, Gaehde said rowing will take place in the memory of Kurmakov. 
"I will remember to row harder than I think I can. I will remember to row with my team. I will remember his high fives before a race. I think every one of his rowers will remember those," Gaehde said.
Kurmakov was the "face of Simmons Crew," according to Dike. "You truly cannot think about your experience on this team without having hundreds of stories about our coach Nik."
Dike, Gaehde, Feuerstein, and others from Simmons, Riverside, and beyond have said that there won't be a sunrise over the Charles River that they won't think of Coach Kurmakov.
"I will always hear his voice motivating me to really push myself for that final sprint of every piece of a workout, down to the last stroke, said Dike.
Gaehde added to Dike's comment expressing that, "Nik was special. Like he said, rowing wasn't easy but he made it worth it."  
Editor's note: Due to Isabelle Indelicato's proximity to the crew team, Sofia Gulick conducted the interviews for this story.