By Simmons Athletics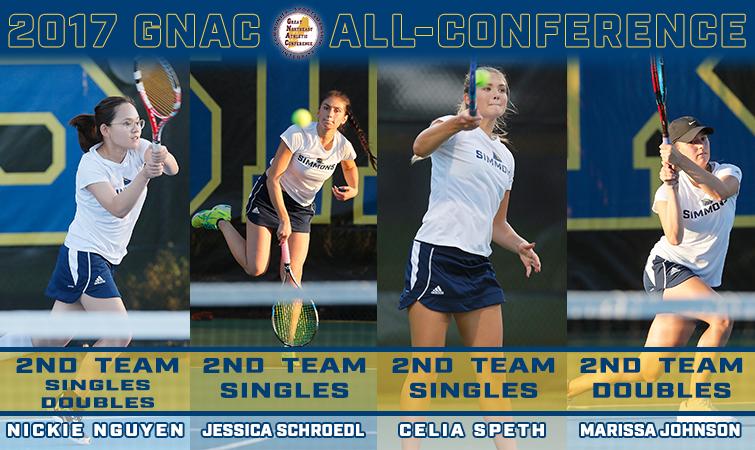 Simmons College's Jessica Schroedl, Nickie Nguyen and first year Celia Speth were all named to the Great Northeast Athletic Conference Second Team for singles, while Nguyen and Marissa Johnson were each selected to the Second Team in doubles play, it was announced today by the league. Senior Olivia Lakes was selected to the All-Sportsmanship Team as well.
Schroedl was a First Team singles selection last year, while Nguyen was tabbed to the Second Team for singles.
Schroedl was chosen after playing all 14 matches at number one singles for the Sharks. The sophomore posted a 1-3 mark in conference play as part of an overall record of 3-11. The Franklin Delano Roosevelt High School product opened the season with an impressive three-set victory over Kathryn Hughes of Roger Williams University, fighting back to win the final two sets, including an 11-9 decision in the third set, after dropping the opening frame. The second-year player also registered straight set wins over Clark University's Anna Gates (6-1, 7-5) and GNAC foe Albertus Magnus College's Alicia Weaver (6-1, 6-1).
Schroedl currently owns a 6-8 doubles record as well. For her career, the New York native is 7-22 in singles play and 11-18 in doubles action.
Nguyen turned in a 5-1 mark at singles play for Simmons and was 7-6 overall, while earning GNAC All-Tournament honors following the GNAC Championship. The sophomore was 2-0 at number one singles, while putting together a 5-6 mark on court two. A graduate of Saint Joseph Preparatory, Nguyen won back-to-back singles matches three times during the season, including four victories in straight sets. She combined with Johnson, who is a graduate of Norwell High School, to post a 10-7 doubles record at number two, including 4-2 in conference play. The pair finished the fall campaign with a five-match winning streak from October 9-22, including three contests in the GNAC Championship Tournament. The duo defeated the Johnson & Wales tandem of Madison Hernandez and Holly Olson at second doubles in the GNAC Championship match. Nguyen and Johnson dropped fewer than four games in six matches, including a pair of outings where they didn't drop a game.
Nguyen showed tremendous growth in her success at the collegiate level in her second season with Simmons and owns a career record of 11-19 in singles play to go with a 13-20 mark in doubles action. Johnson was 6-4 as a singles player this year, including 5-3 at number three. She was also chosen to the GNAC All-Tournament Team and is 11-16 lifetime in singles play, while holding an 18-19 mark in doubles play.
Speth overcame a slow start for the Sharks, winning 11 of her final 14 singles matches and recorded a 5-1 record against GNAC competition. The first year was 1-0 at second singles, 2-0 at number four, 4-3 at fifth singles and 4-2 at number six for the year. The Frontier Regional High School product won all of her matches in straight sets and lost four or fewer games on nine occasions, including a 6-1, 6-0 triumph at fifth singles over Kailey Meyers of Regis in the GNAC Tournament Semifinals on October 21. Speth finished her first fall season with a combined record of 21-11, including 10-6 in doubles action, primarily at number three.
Simmons finished the fall campaign with an 11-6 mark, including 4-2 in conference play. The Sharks fell to top-seeded Johnson & Wales in the GNAC Championship, 5-2, on October 22.