Immersive Klimt dazzles, but remains inaccessible to its "target audience"
"I love Klimt's artwork, and the immersive exhibit looks incredible. It's just too expensive."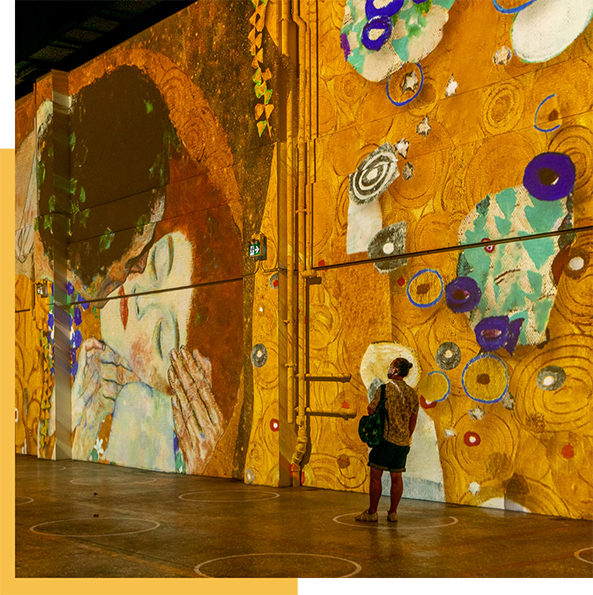 Olivia Ray, Arts & Entertainment Editor
April 28, 2022
"Immersive Klimt", an exhibit showcasing projections of works by Austrian painter Gustav Klimt, opened at the Saunders Castle at Park Plaza on April 14. 
The exhibit created by Lighthouse Immersive and Massimiliano Siccardi features 500,000 cubic feet of projections, 60,600 frames of video, and 90,000,000 pixels, and runs about 35 minutes. 
According to Richard Ouzounian, the author of Immersive Klimt: Revolution, a hardcover book written to accompany the exhibit, college students interested in art are "exactly the target audience." 
"I really want college students to come and get excited about art or the possibilities of art," said Ouzounian. "In my mind, I see a college student saying 'I hear it's a cool show, let's go,' and then buying the catalog or looking it up and going 'do you know what they were doing in Vienna in 1898?'" 
Despite this goal, some students say the cost of admission is prohibitive to their target viewers.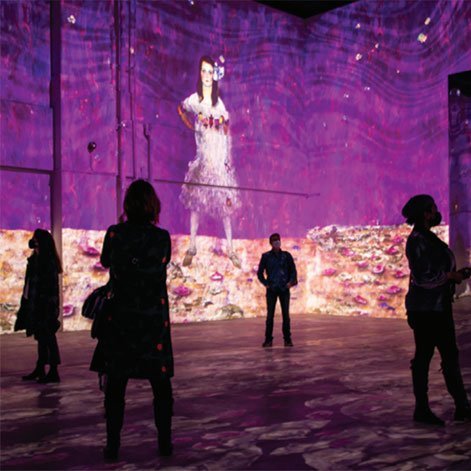 "I love Klimt's artwork, and the immersive exhibit looks incredible. It's just too expensive," said Audrey Grant, an artist and Simmons junior in the 3+1 Public Policy program. 
"Immersive Klimt" does offer a 25% student discount at the in-person box office with a valid student ID. Even with this discount, student tickets start at $30 for a basic ticket during off-peak times. 
Price aside, Ouzounian believes that the exhibit brings educational value to Boston, particularly because it is a college town. 
"I think it's educational in a good way," said Ouzounian. "I don't like educational stuff being shoved down your throat, I like stuff that makes you want to go out and educate yourself more."
According to Ouzounian, one way Klimt's work is particularly relevant to today's viewers is that he was creating during a pandemic. 
Klimt and his protege, Egon Schiele, both painted during the Spanish Flu pandemic of 1918. The flu ultimately took both of their lives.
This act of creation during a time of mass peril runs parallel to the experience of the creators of
"Immersive Klimt," as they curated the exhibit during a pandemic of their own. 
"Immersive Klimt" is the third in a series of immersive exhibits presented by Lighthouse Immersive, following "Immersive Van Gogh" and "Immersive Frida Kahlo." All three exhibits were creatively driven by Siccardi.
According to Ouzounian, "Immersive Klimt" is his personal favorite in the series, primarily because it breaks the mold the other two follow.
"Van Gogh was pretty. Sometimes overwhelming, and sometimes a little scary. And Frida followed lines. But this is strange," said Ouzounian. 
The exhibit itself is breathtaking, as viewers are whisked away to the inner pages of Klimt's notebook. 
Klimt's works, both famous and less well-known, are projected 360 degrees around the audience, creating a world somewhere in between The Secret Garden and The Little Princess. 
The exhibit travels through swirling ivy reminiscent of the San Francisco Botanical Garden to the inside Venetian theaters, still clinging on to the last wisps of Regency Era sophistication, to a post-modern club, with music to match.
Immersive Klimt tickets are available through June 12. 
Photosensitivity warning: this exhibit features flashing lights that may be harmful to some viewers.