Weeg sets all-time record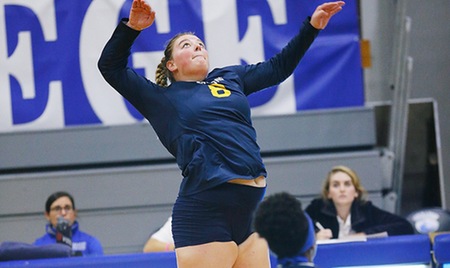 Many athletes know the feeling that comes with winning a game or a match, some even know the feeling of winning a championship, but few know the feeling of breaking existing school records. Morgan Weeg is one of the few. During a Saturday afternoon match against Westfield State, the outside hitter recorded 32 kills, giving her 1060 career kills. She surpassed the former Simmons mark, set 8 years ago by Meaghan Flynn. By the end of the evening, Weeg totaled 1089 for her career, and is now the all-time leader.
"Hitting a milestone like this is exciting," said Weeg. "Feeling like you have something to show for the hard work you have put in is rewarding. I also felt grateful for the team that helped make it all possible. There are so many aspects that we have to execute to make this happen as a team. If anything, I think this milestone only emphasizes the growth and level that Simmons Volleyball is at now and will continue to be in the future."
She started playing volleyball in the 3rd grade, looking to pursue a new sport. Turns out, Weeg was made for the sport. "Volleyball was always in my blood," she said. My mother and aunts have played volleyball and coached for most of their lives. I immediately fell in love with the sport. My mom has been my coach since I started playing."
Although Weeg may be a veteran volleyball player, some aspects of the game still pose a challenge for her. After an injury left her out of the action last season, she was determined to come back stronger this year. "The mental and emotional component of the game is challenging and is the part that most people, when looking at the sport, don't even notice. Volleyball is a game of mistakes, points are scored off of mistakes, trying to battle against it isn't the easiest. Momentum shifts back and forth and team energy can change whether you win or lose. I have had to work hard on my mental toughness."
Fortunately, with sports idols such as Jordan Larson, the outside hitter for the USA National Team, and Tom Brady to look to for inspiration, Weeg is able to stay on top of her game. She is inspired by their hunger and aggressiveness, as well as their work ethic and leadership. Weeg credits this milestone not only to being able to take feedback from coaches, but to the time and work she puts into each practice and during the off-season.
Volleyball coach Scott Grandpre echoes Weeg's drive and enthusiasm for the sport. "Morgan has been a great leader for us on and off the court since she arrived as a Freshman. She works hard every day to become a better player and her accomplishments speak for themselves."
"As great as she is on the court," he continues. "I am even more impressed by who she is as a person. Morgan is always there for her teammates in a caring, compassionate way.  She is always respectful toward coaches and admin
istrators and has represented Simmons with class since she arrived 4 years ago.  We feel very fortunate to have been able to work with Morgan and know that she will continue to be successful in whatever she sets her mind to because of her hard work and contagious positive energy!"
Weeg is an Exercise Science major, minoring in Psychology. She's applying to graduate schools for physical therapy, hoping to enroll after graduation. She plans on being involved in athletics after she leaves Simmons, and sees volleyball being part of her life for a long time.
During the off-season, Weeg coaches club volleyball for teenage girls. When she isn't putting time in the gym or studying, you can find her exploring the city looking for new places to see the skyline.