Whitman Leads Lacrosse over UMass Dartmouth, 13-10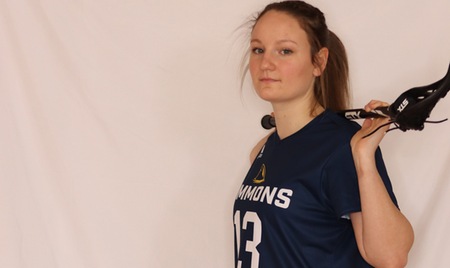 First year attacker Lauren Whitman (Mansfield, Mass.) netted four goals to lead the Simmons University women's lacrosse team to a 13-10 victory over visiting University of Massachusetts Dartmouth this evening at Daly Field in Brighton, Mass. The Sharks improve to 2-0 on the season, while the Corsairs fall to 1-1.
Simmons controlled possession throughout the match, owning a 35-23 shot advantage and a 30-16 margin on ground balls.
Whitman added a pair of draw controls, while classmate Emily Boedeker (Portland, Maine) came off the bench to net three goals for the Sharks. Senior attacker Kingsley Richards (Lexington, Mass.) tallied four points, including a pair of goals and sophomore midfielder Lilly Devitt (Belmont, Mass.) contributed with a goal, an assist and career-highs of six caused turnovers and eight ground balls.
Sophomore midfielder Bella Mancini (Bellingham, Mass.) continued her offensive breakout for UMass Dartmouth with six goals to give her a team-high 13 for the season and added four draw controls, five ground balls and a caused turnover. Sophomore midfielder Hannah Niemi (Fairhaven, Mass.) scored three times to go with two ground balls and a pair of draw controls, while senior midfielder Sam Muir (Sturbridge, Mass.) scored a goal, assisted on another and came up with five draws.
The Corsairs scored three of the first five goals of the match, including a pair from Mancini to take a 3-2 edge with 19:39 to play in the opening half. Simmons put together seven unanswered goals and never looked back, taking a 9-3 lead with 2:04 remaining in the first half. Devitt sparked the run and Whitman followed with consecutive markers before Richards, sophomore attacker Ailia Rochefort (Dover, N.H.), first year Sidney Pilot (Pomfret, Vt.), and Boedeker all scored a goal each to give the Sharks a six-goal advantage. Mancini got a goal back for UMass Dartmouth on a free position shot as time expired, despite her team being a player down following a penalty.
Simmons took a 9-4 lead into the intermission, before Niemi pulled the visitors to within 9-5 with the first tally of the second stanza coming with 27:22 to play. The Sharks responded with three straight goals in a span of 103 seconds, including Richards' fifth of the season to give the home team its largest lead at 12-5 with 25:04 showing on the second half clock.
The Corsairs continued to battle with three consecutive scores of their own, including a pair from Mancini to cut the deficit to 12-8 with 13:33 to go in the match. Whitman halted the UMass Dartmouth string with her fourth goal of the night coming on junior attacker Cindy Murphy's (Revere, Mass.) career-high third assist at the 7:13 mark. Mancini (5:21) and Niemi (0:21) found the back of the net with the game's final two scores for the Corsairs to set the final at 13-10.
Sophomore goalie Erin McIntyre (Cumberland, R.I.) made eight saves to pick up her first collegiate victory in her first career start for Simmons, while senior keeper Bridget Harrington (Northampton, Mass.) turned away 11 shots for UMass Dartmouth.