Colman Nets Double Accolade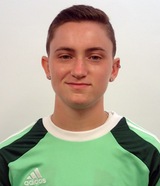 When first year Melanie Colman sent in her application to Simmons, she thought she would be running on a basketball court, not standing in a goal. Although she received multiple offers from different colleges and universities for both soccer and basketball, her heart was set on the latter. She worked for years in the gym to better her skills to prepare herself for the intensity and the demand of college-level athletics.
During her senior year of high school, she committed to the Simmons basketball program; her heart was so set that when it came time to send in applications, she only applied to Simmons. Then, three weeks before deposits were due, she received a heartbreaking phone call. It was the head basketball coach calling her with the news that the program was no longer being provided. Colman was devastated, "I didn't know how to react."
"I felt hopeless and defeated. After all the work I put in to make it to where I always wanted to be, basketball was ripped out from under me. All my hard work over the years, the time, effort and energy I spent in the gym was all to waste," said Colman. 
When Coach Erica called her with a guaranteed position as goalkeeper for the soccer team, she hesitated. She knew Simmons was where she wanted to be, but it was difficult to grapple with giving up playing college basketball. Originally she considered taking online classes and transferring to a different university program. Yet, here was an opportunity to continue in athletics at Simmons. Colman decided that for her education, it was best for her to come to Simmons and play soccer. 
"I love soccer, and I really enjoy playing it, it just isn't what I thought I would be doing at all. I had a love-hate relationship with Simmons because of this. I hated what they did to the program, but on the other side of things, I was going to be a starting keeper for a college soccer program my freshman year. Despite everything that happened, I was looking forward to the opportunity I was going to have." 
Second to basketball, Colman started playing soccer when she was in 6th grade. Ideally, she wanted to be at the front, scoring goals, but because she started late, she lacked the foot-skills and was designated as the goalkeeper. At first, she hated it, but eventually it began to remind her of basketball.  As the pressure grew, she refined her skills to be the best at the position as she could. Coming into the starting goalkeeper position at Simmons was no different; she knew the key to success was working hard and earning her teammates respect.
"The position was literally mine, l just had to put the work in to prove that I belonged. Even though it was mine, I didn't want anyone to think it was handed to me. Despite doing something I never saw myself doing, I was willing to put in the work to be the best I could be for my team and to prove not only that yes this is my position, but that I belong here, despite the position falling into my lap."
And she did. Colman is currently ranked 4th in the GNAC among goalkeepers, and earned the titles of both GNAC Rookie of the Week and GNAC Goalkeeper of the week. This is the first time a Simmons soccer goalkeeper has been named both in school history. She's also first in the GNAC in saves (125) and 42nd in the nation. Standing at 5'1", Colman is both the shortest goalie in the league and the shortest goalkeeper in Simmons soccer history.
"Despite all the heartbreak and devastation I faced with basketball, these honors prove that if you truly put your all into something, despite the circumstances, you can really be your best self. This was never a goal of mine. I just wanted to be the best I could be for my team; I didn't want them to think I was along for the ride. I didn't get these awards by myself either. I love my teammates and they have made this experience with soccer the best experience I've ever had on any sports team. These are more than just awards. They are confirmation that I made the right choice, and that I proved I belong."