The Office of Simmons University President Lynn Perry Wooten announced the sunsetting of eight majors, absorption of five majors into other major programs, reorganization of the University into six colleges, and new graduate programs in a September 29 email to the student body. 
Students in affected departments received emails from their department heads detailing the changes before the mass email was sent out. While some students thought this was a mistake in timing, Laura Wareck, Vice President of Marketing and Communications, "the goal really was for those students to hear directly from those they have connections with."
The Art, Art Administration, Asian Studies, Chemistry Management, Economics and Math, Financial Math, French, Music, and Philosophy majors will all be sunsetted. According to the president's office, content from the sunsetted humanities courses will be considered as a part of the new Humanities major.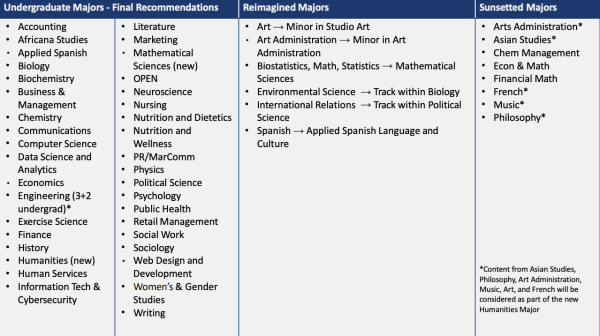 Additionally, Biostatistics, Math, and Statistics will be absorbed into a Mathematical Sciences major, Environmental Science will become a track in the Biology major, and International Relations will become a track in the Political Science major. The Spanish major will become an Applied Spanish Language and Culture major.
According to the email from the president's office, current students will experience no interruption to their chosen majors. 
These changes, which are part of the new Academic Redesign, were voted on by the Board of Directors and made through "a very student-driven process…[they] looked at departments and student data" to reflect the needs of the Simmons student body, according to President Wooten. 
President Wooten told the Voice that the goals of these changes were to elevate "signature programs," build expertise in sciences, expand Simmons' footprint in management and business, and reemphasize the Gwen Ifill College's excellence in humanities.
Wareck told the Voice that the decision to sunset certain majors was made after "almost 100" meetings over the summer. President Wooten added that there is an upcoming alumni town hall, as well as a message being sent out to parents.
When asked about professor involvement in the decision, President Wooten said "it was a collaborative process and most faculty feel that they were included." 
President Wooten described this model of phasing out majors as a "teach-out," reiterating that all students will be able to finish out their majors with the same quality of education, regardless of how long it takes them to graduate. Elective courses in sunsetted majors are also included in the teach-out. 
President Wooten told the Voice that decisions regarding minors will be made over the next few weeks, then announced to the student body. 
The email also announced that Simmons intends to retain 90% of their current faculty. According to President Wooten, "[Simmons'] approach is really about people first," and they will work with faculty in sunsetted programs to find new positions. 
When asked what would happen if the current faculty for a sunsetted major left Simmons, President Wooten said that the university would hire adjunct professors to complete the teach-out. 
Simmons' departments will also be reorganized into six colleges: School of Nursing, School of Social Work, School of Library and Information Science, School of Management, Gwen Ifill School of Media, Humanities, and Social Sciences, and the School of Science and Health Professions. President Wooten said the Board "want[s] each school to be laser-focused on their distinction and their students."
The president's office email also officially announced the Simmons Edge. President Wooten told the Voice that this program is intended to allow a program that will allow all "people who identify as women to have accelerated pathways to graduate education…Simmons is committed to being laser-focused on accelerated programs."
Wareck added that this program was designed to "break down socio-economic barriers [to graduate education], [promote] equity, and [promote] social equality."
The email cited that these changes are being implemented in order to "accelerate pathways to meaningful careers." When asked whether Simmons considers careers in art, music, and other sunsetted majors to be meaningful, President Wooten said "[Simmons] think[s] every degree is a pathway to life work and careers, [they] are just accelerating it with graduate degrees."
This is an ongoing story––the Voice is currently looking into changes being made to the PLAN curriculum. Please check back in the upcoming days.