A recap of the third annual Ifill Forum
Simmons held the third annual Ifill Forum honoring alumna and accomplished journalist Gwen Ifill on November 6, 2021. 
"The Ifill Forum is one of the most direct ways we honor our namesake," said Brian Norman, dean of the Gwen Ifill College of Media Arts and Humanities, in his opening remarks. 
The event included the presentation of the Gwen Ifill Next Generation award and a moderated panel discussion. 800 people were registered for the virtual event, according to Norman.
The Next Generation award was presented to Robin Roberts, the co-anchor of ABC's morning program 'Good Morning, America.' Michele Norris, a friend of the late Gwen Ifill and a Washington Post columnist, presented the award to Roberts. 
Robin Roberts spoke on the legacy of Ifill and their personal relationship, saying, "I still have the last voice mail that she left me on my phone. I refuse to delete it. Just like Gwen will never be deleted."
Roberts participated in the following panel discussion, alongside Kevin Merida, the executive editor of the Los Angeles Times, and students Kylie Collins and Kate Farrell. The discussion was moderated by communications Professor Traci Griffith. Among the topics covered were how to rebuild trust in journalism, how to maintain resilience when reporting on difficult topics, and how to best carry on Ifill's legacy.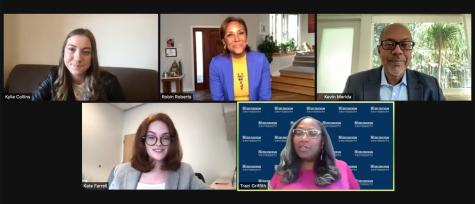 "She accomplished amazing things in her career, but what people remember most about her is who she was," said Collins. "To embody her legacy is beyond a 9-5 job."
November 14, 2021 marks five years since Ifill died due to cancer complications.