Yamiche Alcindor becomes moderator of Washington Week
Journalist and mentee of Gwen Ifill, Yamiche Alcindor, is the new moderator of Washington Week from PBS. 
"This show has an incredible legacy, and I am thrilled, thrilled to step into it and to expand it. I was lucky enough to know and to be mentored by Gwen Ifill, a longtime host of this show," said Alcindor, closing her first show as moderator on May 7. "I am thinking of her – her brilliance, her tenacity – today and every day."
Ifill, a Simmons alumna from the class of 1977 and the namesake of Simmons' Gwen Ifill College of Media Arts and Humanities, famously moderated the program from 1999 until her death in 2016. 
Alcindor was the recipient of the inaugural Simmons' Gwen Ifill Next Generation Award at the first annual Ifill Forum in 2019. Alcindor presented filmmaker Ava DuVernay with the award during the 2020 forum.  
I'm honored to become the next moderator of @washingtonweek, a show that meant so much to Gwen Ifill when she helmed this chair. My guiding light will be focusing on the impact of politics on everyday people and vulnerable populations. Join me this Friday. https://t.co/6WqpjcIL6k

— Yamiche Alcindor (@Yamiche) May 4, 2021
Members of the Simmons community congratulated Alcindor on the new position. Simmons President Lynn Perry Wooten tweeted her praise for Alcindor, writing, "As the 2019 Gwen Ifill Next Generation Award recipient, you are the embodiment of Simmons alumna Gwen Ifill's mission: to foster civil dialogue while asking tough questions to inform diverse communities."
"I am thrilled to see Yamiche Alcindor take the helm of Washington Week in the seat once held by her mentor, Gwen Ifill. Our political culture is in good hands," said Dean of the Gwen Ifill College of Media Arts and Humanities, Brian Norman, in a statement to the Voice. "She was the very first recipient of the Gwen Ifill Next Generation Award because she embodies so much of Gwen Ifill's legacy of professional excellence, integrity, and asking the hard questions."
About the Writer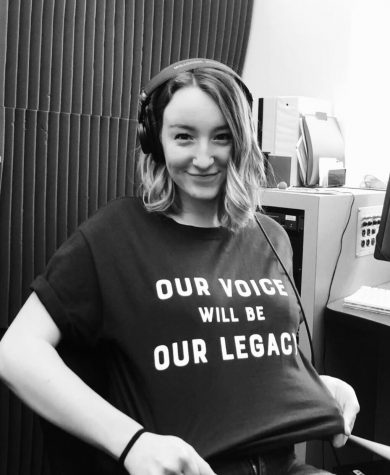 Katie Cole, News Editor
Katie Cole (2022) is a Political Science and Communications major with a concentration in Journalism and is minoring in and Radio Operations. She loves...