Vaccines for the fall: what we know

Last week, Simmons announced that all students returning to campus for the fall 2021 semester are required to be vaccinated against COVID-19. 
Every returning student participating in "face-to-face curricular and co-curricular activities at any of our Boston or remote locations," including, "face-to-face classes, immersion weekends, off-site cohorts, and other in-person events at these locations," will be required to be fully vaccinated before their arrival to campus in the fall, according to an April 26 email from the Office of the President.
This announcement comes as other Boston-based schools, such as Boston University, Northeastern University, Boston College, and Emerson College have all recently announced a vaccination mandate for students returning to campus in the fall.
Originally, in a March 25 email from President Lynn Perry Wooten outlining the University's decision to bring students back to campus in the fall, she said that while she encouraged all students who are eligible to be vaccinated to do so, at that time, Simmons would not be requiring students to be vaccinated before returning to campus.
This change in policy is largely due to encouraging data around the effectiveness of the three major COVID-19 vaccines: Pfizer, Moderna and Johnson&Johnson.
While the vaccine hasn't been approved beyond emergency use by the FDA, it is widely being accepted as the standard by organizations like the CDC, the WHO and even President Joe Biden, Laura Brink Pisinski, vice president of University real estate and facilities management and leader of the 13-person Simmons University COVID-19 Recovery Task Force, pointed out.
"We're seeing effectiveness, we're seeing that it's working, we're seeing that cases are going down," said Brink Pisinski. "The city and state are continuing to advise people to get the vaccine, and to encourage colleges to get our populations to herd immunity. And so it felt like the right thing for us to do to keep our students and our faculty and staff safe."
Simmons administration has been working closely with Dr. Daniel Barker, the University's medical director, and Mary Beth Davis, the director of the Simmons health center, to monitor the constantly shifting landscape of the virus so Simmons can implement best practice policy.
President Wooten, who took her role at Simmons amidst the COVID-19 pandemic last June, echoed this, noting that they're monitoring what other universities are doing as well. 
Access and equity is something that was on Simmons students' minds after the announcement, and many wondered how administration was going to help those who don't have access to the vaccine before the fall semester. 
Incoming Simmons senior Maddie Short was thankful to hear that the University would be mandating the vaccine prior to arriving on campus, but worried about equity in access to the vaccine.
"I do worry about if people aren't still able to get it, how it might look for international students, and when running orientation events and move-in, how families and guests will be received," the History major said. "I think it shows Simmons to be strong in making decisions and showing that it wants students to be conscious people in the world we live in, but I also wonder how Simmons itself is going to either enforce it or provide for students who have chosen not to for whatever reason."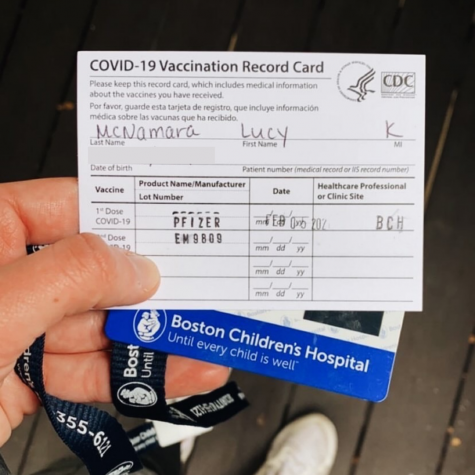 Simmons University Community Standards Spring 2021Jenia Brewington, a graduating senior in the nursing program, said that while she thinks Simmons students should get the vaccine, she understands and respects anyone who chooses not to.
"Vaccination is, like, a weirdly controversial topic but from the perspective of a person of color, I know a lot of people are mistrustful [of the US healthcare system] from generational trauma of things like Tuskegee," she said. "So basically I encourage it and try to convince anyone I can to get it but I understand if people feel a way about it."
If a student was unable to be vaccinated prior to returning to campus, administration is still developing the protocol for that situation , but Dr. Renique Kersh, the new vice president of student affairs, emphasized that the student will not be barred from campus.
"What we're not going to do is turn that student away," Dr. Kersh said. "So we will absolutely work to ensure that we have the ability to help students get vaccinated so that they can fully engage in campus life. We're still trying to make some determinations for the fall and how we handle different individualized circumstances, so we're still thinking through all of the possible scenarios to make sure that we can best support students in that way."
President Wooten echoed this, and emphasized that the administration is committed to helping students access the vaccine at any point in the process, even over the summer. 
"If students arrive here, and they can't get the vaccine, we are committed to helping them either something through Simmons, or one of our healthcare or hospital partners, or another university," President Wooten said. "We are here to help with access and equity."
The University is also looking into possibly providing transportation for on-campus students to vaccine appointments. 
But the creation of a  pop-up vaccination clinic is more challenging. 
Because of the two-dose nature of the Pfizer and Moderna vaccines and restrictions around vaccine supply and City of Boston guidelines, students would most likely not be able to get both doses at the pop-up clinic. In that scenario, Simmons would work with students to help them secure an appointment to ensure that they are fully vaccinated. But Brink Pisinski said that it is something they are looking into providing for students in partnership with one of Simmons' healthcare providers. 
Brink Pisinski also noted that early in the vaccine distribution timeline, some colleges and universities were given doses of the vaccine for their communities, but as the Massachusetts rollout hit a snag in February and March, along with technological difficulties scheduling vaccine appointment, the supply of doses to colleges and universities was halted to better streamline the process.
Simmons' strict on-campus COVID-19 guidelines for both fall 2020 and spring 2021 seem to be working– only one student out of the 190 living on campus this semester tested positive for COVID-19. These campus regulations, like twice weekly testing, are currently still enforced even if students are fully vaccinated. 
For students returning to campus wondering if these strict guidelines will still be enforced in the fall, senior leadership is working closely with the Office of Student Affairs, the Office of Residence Life and the COVID-19 Recovery Taskforce to create on-campus guidelines that keep both health and safety and an enriching college experience in mind.
"We want our students to be able to connect with one another. That's a hugely important part of the college experience," Dr. Kersh said. "And so that that will also be a part of our thinking with the guest policy. And so that's another reason why we want to require the vaccine, because the more colleges that require a vaccine, the easier it is to have a guest policy that's inclusive."
As of right now, twice weekly on-campus testing is still being budgeted for for all on-campus students in the fall, regardless of vaccination status according to Brink Pisinski, but that requirement will be reevaluated as move-in approaches. Simmons partnered with the Broad Institute for their on-campus COVID-19 testing, and will continue that partnership into the fall semester.
Administration is also thinking about the best way for students to submit their vaccination status prior to returning to campus in the fall. President Wooten added that for many students, proof of vaccination is already required to attend Simmons, so they're considering ways to adapt the existing system for the current situation.
Kersh acknowledged that the University is preparing for all eventualities, and the COVID-19 landscape may look much different in August than it does now. She included that because of the unpredictability of the virus, more detailed communication about the logistics of the vaccination policy, on-campus guidelines and resources for fall 2021 will be made available to students in mid-July. Until then, anyone with questions or concerns about the vaccination policy are encouraged to visit Simmons' COVID-19 website or reach out to preparedness@simmons.edu.