Simmons' Career Education Center is here to assist graduating seniors navigate the workforce
 "I want each senior to know that the CEC is here to help and support you as you head towards graduation and beyond." -Claire Feiner, acting director of the CEC
The spring semester is notorious for the stress of figuring out post-graduation plans for college seniors nationwide. However, Simmons seniors don't have to do it alone– alongside the support of Simmons professors and advisors, the Career Education Center (CEC) is a resource for soon-to-be-graduates to help ease the transition from university to the workforce.  
Clare Feiner, acting director of the CEC, gave the Voice advice to the seniors who are graduating this May.
"For current seniors I would recommend that you think through how resilient you were this past year and make sure to include some of the amazing things you have been doing during COVID on your resume." said Feiner. 
Questions she posed to include on a resume consisted of, "Did you do a remote internship? Did you master a new skill through a class? Did you volunteer in some way to help out your community? Did you learn how to present to a class on Zoom? Did your work study job become a remote job and you learned how to do something new?" All of these things can, and should, be included on a resume and in a cover letter.
On average, a typical job search takes about 3 months, which is something Feiner expressed should be considered as graduation is a little less than a month away. By connecting with Simmons alumni, students open up another door to help grow their network, often through sites like LinkedIn or the Simmons Network.  Fenier also pointed out that the CEC career coaches are willing to connect and support all students through this time of job searching. Students can schedule an appointment with a coach on Handshake or email the CEC at careers@simmons.edu. 
Another common question on newly graduated Sharks' minds is what barriers or struggles should seniors expect during this transition time?  To better assist the class of 2020, the CEC developed an online guide for students graduating during COVID, which has resources and advice for soon-to-be graduates.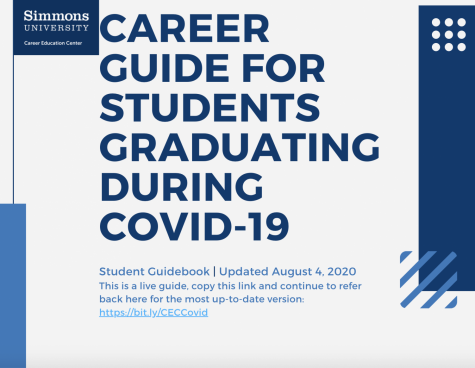 "We developed an online curriculum and led a concurrent 6-week live session to support students through applications, job searching, interviewing and negotiating," Feiner said on the online guide. "We also hosted a virtual alumnae/i panel last June, with alumnae/i who graduated during the last recession, sharing their advice about how they managed the job search process."
The CEC also hosted a phonathon where staff called each graduating senior to share information on how to contact the CEC with any questions about job searching. 
However, this year's approach is a bit different. The CEC hosted a Virtual Senior Career Series, which included 4 virtual events in March to help seniors, (and other students,) strengthen job applications, their personal brand and interview skills. Any students that missed these events are encouraged to schedule 1-1 career coaching appointments with the CEC.  
For students who want to start looking forward to their future career, the best place to do so is to start job searching on Handshake, Simmons's online job board.  Another resource to go to as seniors approach graduation is Career Guides, which have industry specific job boards for each discipline.  
 "I want each senior to know that the CEC is here to help and support you as you head towards graduation and beyond." said Feiner. 
Richard Scardina, co-founder of the Atlantic Group in Boston, a leader in specialized temporary staffing and has dedicated temporary staffing recruiters in various office locations, often helps graduates in acquiring jobs upon leaving their universities.  
"Understand that companies are trying to figure out how to conduct business in a post-Covid world and it's a fluid situation," Scardina said.  "The more flexible applicants are, i.e. the less they act like entitled Gen Z'ers, the more success they will have finding the job they want."
Besides being able to adjust, graduates must understand that due to COVID-19, the job listings have decreased, causing it to be a challenging time to try and find a job.  
A tip that Scardina suggested is ensuring your resume is complete, without errors and being 100% accurate at the time of your job application.  
"Understand that the first job you get may not be your dream job," Scardina said. "Get into the field that you are interested in, to a company that focuses on what you want to do, and if you're lucky enough to get hired….work hard!"