The Simmons Scream: Simmons University's only student-run satire publication
April 1, 2021
A letter from the editor,
To celebrate April 1 at the Voice, we decided to debut her new sister publication: The Simmons Scream, Simmons' student-run satire publication.
Our writers and editors at the Voice work tirelessly every day to keep our community up-to-date and informed on all things Simmons. We pride ourselves on our outstanding, accurate and award winning journalism. However, the Scream gives us a chance to let our hair down and flex our satirical muscles!
Please note that as this is a satire publication, the stories in the Scream are not meant to be taken seriously.
All of these stories are written honestly, but in the spirit of a good laugh. If you feel a story has gone too far, please don't hesitate to send us a complaint, and we will immediately put it in our circular file. (I'm sorry, I couldn't resist. Seriously though, email voice@simmons.edu with any concerns.)
We hope you have as much fun reading the Scream as we did putting it together!
Wishing you all a very happy April Fools Day,
Sarah Carlon
Editor-in-Chief of the Voice
Campus mice scramble for housing amidst One Simmons construction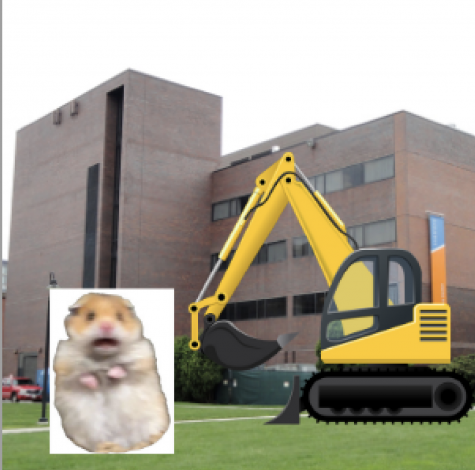 With the One Simmons construction project in full gear, "the mice situation is probably going to get worse," said the Vice President of the Dean of the Department of Associates, Trouble and Fun.
During times of construction, mice are disrupted causing them to move around.  With the demolition of the Park Science Center scheduled for phase two of the project, "there will be a mouse exodus," according to University officials. 
In addition to the rendered drawings of the new Living and Learning Center, Simmons University provided the Scream with video renditions of  the "mouse exodus." 
https://www.youtube.com/watch?v=SYc8kmDxsMc
Renditions of the "mouse exodus" courtesy of Simmons University in collaboration with Disney Pixar.
"We are trying to figure out where to go next," said Big Mike, commander of the pack of mice who currently resides in a chemistry lab closet. "The rats don't want us in Allston, and Simmons doesn't want us here. It's a really tricky situation."
Big Tony, the giant rat of Allston that makes all of the rules did not respond to multiple requests for comment, however the rats of Park Drive were able to provide the Scream with this exclusive footage.
While the campus mice still search for a permanent home before the Park Science Building is demolished, with classes currently remote, the Lefavour mice, Main College Building mice, and the Park Science Mice are all currently residing in the salad bar containers in the Fens. 
COVID-19 suspended from March 12-April 1, "Enjoy your spring breaks!" says virus CEO
The CEO of COVID-19 announced at a press conference on March 12 that the virus' board of trustees moved to suspend the global pandemic until April 1.
"We decided that it's time to let people live a little bit," Miss Core Rona, the virus' CEO said at the conference, "Which is why effective March 12 to April 1 all coronavirus activities will be paused. Enjoy your spring breaks!"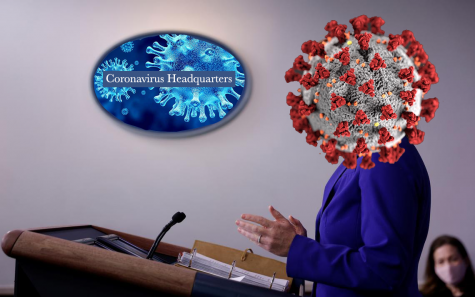 Anyone who is currently infected or contagious with COVID-19, per information from the CDC and WHO, will be COVID free thanks to this mandate. No one can infect or be infected with coronavirus during this time period as well.
Simmons students celebrated this announcement by traveling to popular spring break destinations in warmer climates, including Miami Beach, Cancun, and South Padre Island. 
"I was over the moon when I heard that coronavirus was stopped until April," Simmons third-year Hannah Banana said about her recent vacation to Florida. "I was going to go anyways, but it's so relieving to know that now it's going to be a truly safe vacation for me and my friends."
Frontline workers across the country are also rejoicing in this announcement.
While most college students will be somewhere warm for spring break, healthcare workers like 32 year-old Jane Smith, an emergency room nurse at Boston's Children's Hospital, will be using this respite in a different way. 
"I cannot tell you how happy I am we get a break," Smith said. "I have been working 50+ hours a week for the past year, watching countless patients die from this horrible virus. I can't wait to hug my mom."
The announcement also comes as the CDC director said in a White House her feeling of "impending doom" as the current numbers of new cases rise across the country.
"I was really concerned about the amount of people going on vacation, cities opening back up, folks not socially distancing properly and overall just not taking into consideration that we need to be careful now more than ever," the CDC director said in a recent interview. "Miss Rona's announcement couldn't have come at a better time."
The Office of Student Activities sent an email on March 13 to students who made both domestic and international travel plans.
"We are so happy for our Sharks that they get to have a well-deserved break," the email read. "Without this decision, we know that not as many of our students would have gone on vacation during the fourth wave of a global pandemic otherwise. Have fun!"
Simmons announces plans for a more diverse athletics program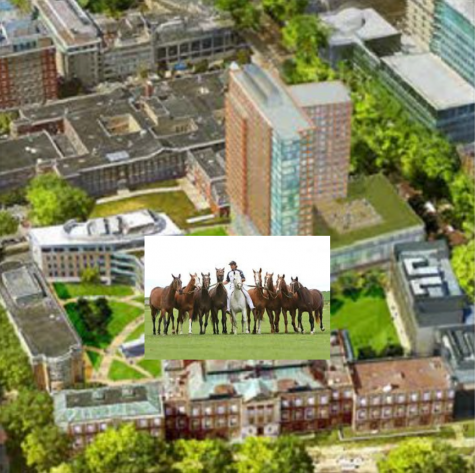 Nearly two years after the Simmons basketball team was unexpectedly cut, the athletics department has announced the instatement of a polo team. 
A statement from the athletics department, written by a spokesperson for the university, explained that "the addition of polo team is part of Simmons' commitment to becoming the most inclusive and diverse campus in New England."
"The investment is a wise one to make," said department administrators about program costs including the purchase of 24 polo ponies, equine transportation, grooming, veterinary appointments, and stable fees.
When asked about the price breakdown of each sport at Simmons, the university spokesperson said that the information "is not meant for general distribution." The same response was given to the Scream in April 2019 when the removal of the basketball program was partially attributed to being the most expensive sport to run that year.
Polo is not an NCAA sport, and the president of the Great Northeast Athletic Conference (GNAC,) which Simmons is a part of, said "we don't know what they're doing over there at Simmons." 
"We've decided to let it be," said the president. 
It is still unclear as to where the polo ponies will be kept, and where the Simmons University Polo team will practice and compete. However, there have been anonymous tips sent into the Voice saying that there have been discussions within the administration about the possible use of the rooftop green space planned for the Living and Learning Center, or Fenway Park.
Simmons sends "Wellness Box" to motivate undergrads during remote learning
In a push to address student burnout and decreased productivity, the Office of Student Life sent all undergraduate students a "Simmons Wellness Box," equipped with everything students need to improve their online learning experience. 
In the box are a pair of "Shark Shackles," which are Simmons-branded handcuffs that can clip to any style of desk to help students stay motivated while doing their synchronous and asynchronous work. 
Also included in the box is an adjustable headset with "safe-shock" technology that senses when student's eyes wander from the screen, and delivers what the Office calls a "remote refresher."
"We were really inspired by shock collars used on dogs," the Office of Student Life said in an emailed statement. "We've added padding around the headset and adjustable straps to make it comfortable and accessible for all students."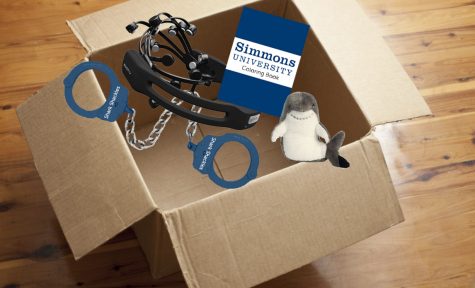 Students were also given the option to request a personal UFC fighter, dubbed a Motivator by Beating (MOB,) by the Office of Student Life. The MOB stands behind the computers of students in class and are trained to beat them up when the student's attention wanders from their work.
"I don't really remember much from the past few weeks, but I am so grateful to Simmons for these resources to help me with online school," said second-year Joanna Simmons from her hospital bed at Mass General, where she is being treated for head injuries sustained from her UFC attention keeper. "This wellness box has made online school so much better for me. And the hospital wifi is faster than mine at home."
"I'm a huge fan of the Shark Shackles," said third-year Evan Hall. "Even if my house was on fire, I wouldn't be able to leave my desk. I've started wearing diapers so that I can stay clipped into work for days on end."
Also included in the Wellness Box was a coloring book and a small Simmons shark plushie.
"We really want to give students a moment of rehabilitation that will help them to re-energize themselves for their work," the Office wrote.