Office of the President responds to petition for in-person commencement
On March 29 an online petition calling for an in-person graduation ceremony for the Simmons class of 2021 was created. Two days later, seniors received an email from the Office of the President announcing that there will be some on-campus celebrations but that the commencement ceremony remains virtual.
"The Simmons University Class of 2020 was forced to cut their senior years short and go home with no ceremony in sight; they were promised that the university would plan for them to have some sort of ceremony in 2021, which has recently come to light as being an exclusively virtual ceremony," the petition read. "Now, the Class of 2021, the class that has gone an entire year taking virtual classes, is getting next to no recognition for their achievements and accomplishments throughout this pandemic (and their college careers)."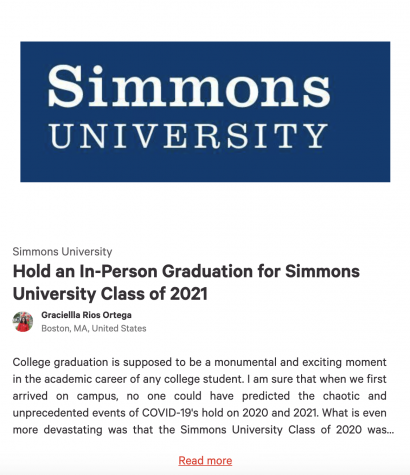 Graciella Rios Ortega, a graduating senior studying biochemistry, said she created the petition on change.org after a fellow Simmons student asked her if she would be willing to start a petition advocating for an in-person ceremony. Within 17 hours, it garnered over 500 signatures.
"The petition is a way to showcase to the Simmons administration that their soon-to-be graduates are disappointed in their announcement for virtual graduation," Rios Ortega told the Voice. "It was a way to give out ideas to the Simmons admins and show them that it is possible to host in-person graduation."
Rios Ortega said that she believes that an in-person ceremony can be done safely, an opinion based on her own experience as a frontline medical worker in a Boston hospital.
"The safety precautions I envisioned are mandatory testing before commencement," she explained. "Students should take a COVID test 24-72 hours before commencement and provide a negative test to attend commencement. We will all be wearing masks and social distancing from one another. We can be broken off into groups with specific times to cross the stage."
"We understand how important it is that you and your families have an opportunity to honor your hard work and mark this important milestone as you conclude this chapter at Simmons," the email update sent from the office of the president said. 
The email, signed by President Wooten, Vice President for Student Affairs Renique Kersh, and Interim Provost Russell Pinizzotto, noted that while the May 28 commencement will remain virtual, they are "creating a series of memorable on-campus graduation experiences" which will include "graduate portraits, cap decorating, a candle lighting and toast with the president, and the availability of limited on-campus housing, as well as individual events within each college of the university."
"While we are thrilled to welcome you to campus to celebrate your accomplishments, we are mindful that the pandemic is not yet behind us," said the email, noting the current rise in COVID-19 cases, more contagious variants, and as of the week of March 22, only 18 percent of Commonwealth residents have been fully vaccinated. "The health and safety of our community remains our top priority."
About the Writers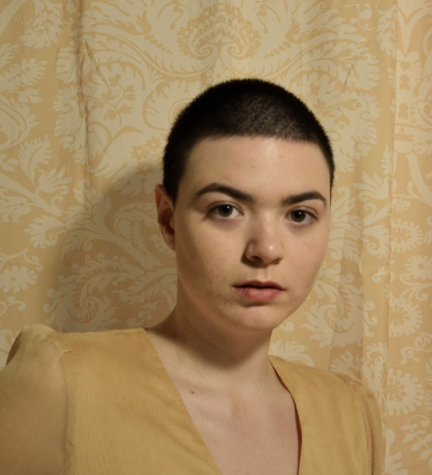 Isabelle Indelicato, Arts and Entertainment Editor
Isabelle (Iz) Indelicato (2021) is a Journalism and Media Arts double major with minors in Radio and PR/Marcom. They have been writing for the Voice since...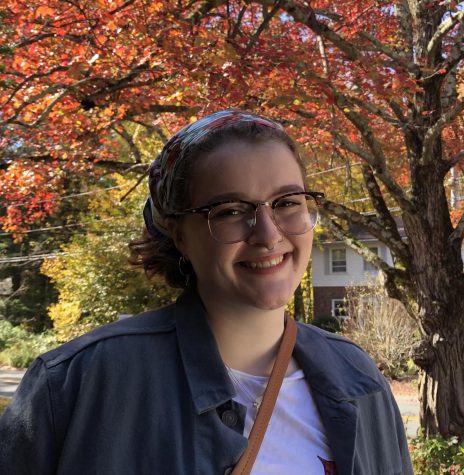 Sarah Carlon, Editor-in-Chief
Sarah Carlon (2021) is a History major concentrating on American politics and government with a Journalism minor and is the editor-in-chief of the Voice....