Sophomore nursing class transitions from online to hands-on
Sophomore nursing students at Simmons University began clinical experience for the first time amidst the global COVID-19 pandemic. After nearly a year of online learning, students have stepped foot into hands-on, in-person learning in Boston hospitals.
With the help of Simmons faculty like Chair of Undergraduate Nursing Charlene Berube and hospital partners, the fully vaccinated students have been assisted in this transition to clinical patient care.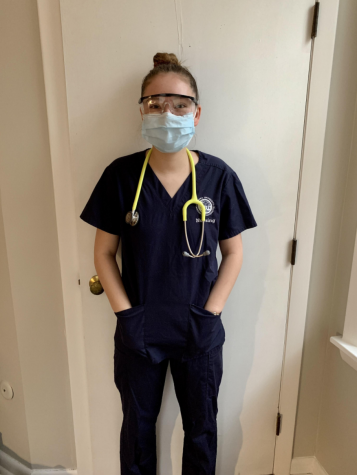 Off-campus students Abigail Dodge, working at Massachusetts General Hospital, and Olivia Cornell, who works at Brigham and Women's Hospital, describe their transition to clinical experience from online as intense because they felt there was a lack of communication between themselves, Simmons staff and hospital clinical instructors.
Berube explains how because of COVID-19, "things evolved on a daily basis," so it was difficult for Simmons staff and hospital staff to keep up with each other.
Julia DiGiacomo, also at Brigham and Women's and living on-campus in Mesick Hall, explains that it's, "the little things we are at a disadvantage for" such as taking blood pressure, vitals and communicating with patients.
"We learned everything we have ever known about nursing from a YouTube video or from a screen," stated Cornell, explaining how she felt "unprepared" for her first clinical.
Berube acknowledges that students usually take a step from in-person simulation labs to clinical experience, while practicing patient communication. In contrast, students this year took the leap from online simulation labs to in-person clinicals. 
"They didn't have the benefit perhaps of, the hands-on experience in the lab, the laboratory faculty sort of placing them in the clinical context," said Berube.
Despite the "scary" introduction to clinical as Cornell describes, the students have had positive experiences during their clinical hours. Dodge explains that her recently graduated clinical instructor is encouraging and understands the stress nursing students are under. "She makes it less stressful," Dodge says.