Five years since the 10 Demands, Simmons students and staff say more needs to be done
"What is it about campus, what is it about the people here, what is it about the structures here that you felt there was nowhere for you? And now that they've created this space for you, is it now the only space for you? And is that, in fact, actual improvement?"
A pocket of students stand off to the corner. They look around the cafe. A few more join the group. 
Stacy Collins doesn't give it much thought. It's November 16, 2015 and she is furiously typing up a paper due for her fast-approaching class. Common Grounds cafe is humming with the usual sounds of college students buying coffee and meeting up with friends between classes.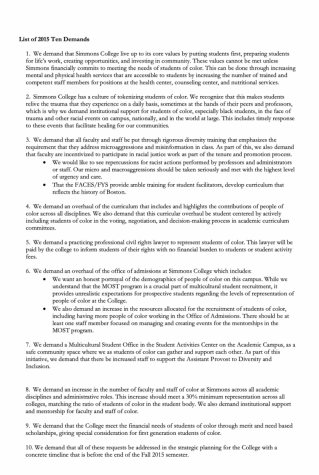 The group in the corner continues to grow; now Collins can't help but look up from her laptop. The small collection of students has burgeoned into a mass encircling the cafe. Students going about their business begin to look up, put down their snacks, and join the circle.
"Oh my goodness, it's happening," Collins thought. She stands up and is handed a pin emblazoned with the words 'Little Has Changed 1969-2015.' 
Little has changed from the first time students of color at Simmons felt the need to organize in this way. In 1969, the Black Student Organization presented the first set of demands to President William E. Park, listing specific changes that they thought needed to be made to improve the lives of students of color at Simmons, according to Simmons University Archivist and Deputy Director of the Simmons University Library Jason Wood.
More students join, and faculty hurry from their offices. There is not enough space in the circle to fit everyone who wants to participate in the event that could revolutionize Simmons.
In a collective voice, students and faculty begin to read off of papers and phone screens. "We demand that Simmons College live up to its core values by putting students first, preparing students for life's work, creating opportunities, and investing in community. These values cannot be met unless Simmons financially commits to meeting the needs of students of color." 
Together, the group of about 100 students and faculty read off a list of 10 Demands for the Simmons administration that seek to improve the lives of students of color.  
Now, five years since the 10 Demands were first read on that November day, students say the administration has not done enough.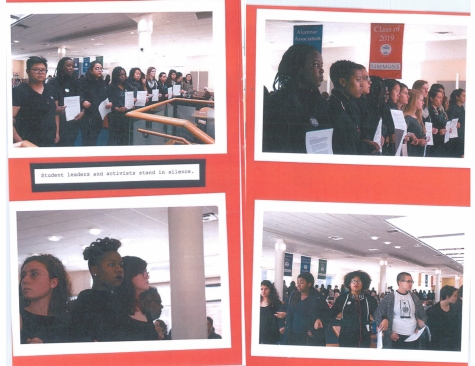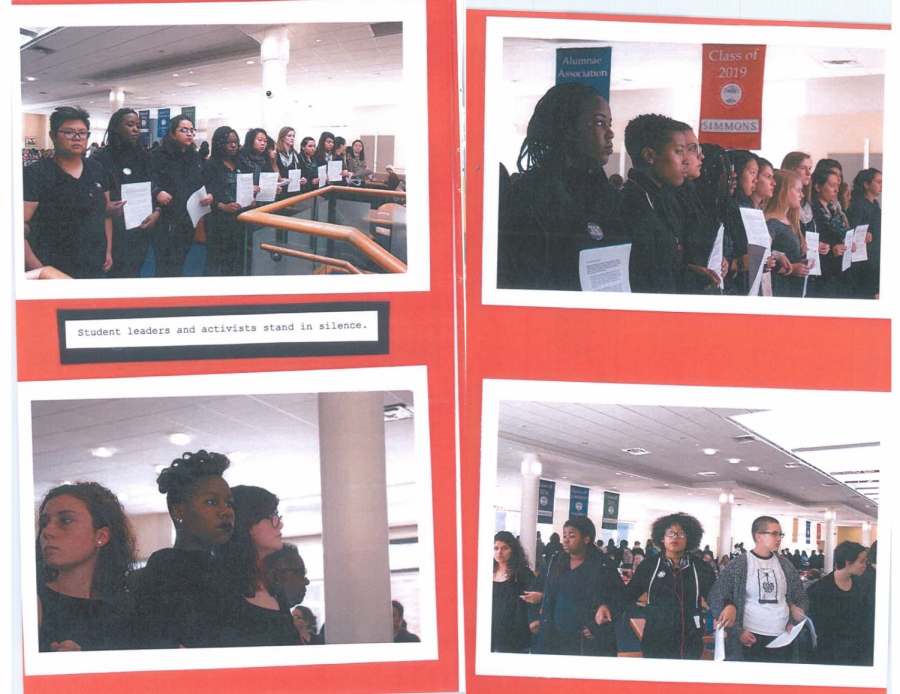 But Lynn Perry Wooten, Simmons' first Black president, said she is trying to create a cultural shift at Simmons with her newly formed Advisory Council on Diversity, Equity and Inclusion. 
Announced September 24, 2020, the council has 17 members from across the university including President Wooten. The mission of the council is to "demonstrate inclusive everyday leadership by increasing diversity, equity, and inclusion at Simmons through action, institutional change, education and development, inspiration, and measurement." 
"Culture change is a long journey," said Wooten. "Simmons was founded in 1899, we didn't just become who we are, and to make those changes are going to take time, but I truly believe we can do it."
Collins, who was present for the reading of the 10 Demands and is a person of color, thinks that while Simmons has followed through on some of the demands, such as  the creation of the Multicultural Center and the development of the office of Organizational Culture, Inclusion and Equity and Human Resources, Simmons didn't address the "campus cultural structures" that allows for many students to describe continued discrimination on campus. 
"There's simply no way to not experience racism at Simmons. Like, you step outside your door in the United States, it's unlikely as a person of color that you won't experience racism," said Collins. She attended Simmons from 2013-2015, earning her Master's degree in library sciences and children's literature. After receiving her degree, Collins came back to work at Simmons, and serves as a research and instruction librarian. 
"If you're asking for a Multicultural Center, because you feel there is nowhere for you, getting a multicultural center is great. But it doesn't address the 'why was there nowhere for you before?'" said Collins. "What is it about campus, what is it about the people here, what is it about the structures here that you felt there was nowhere for you? And now that they've created this space for you, is it now the only space for you? And is that, in fact, actual improvement?"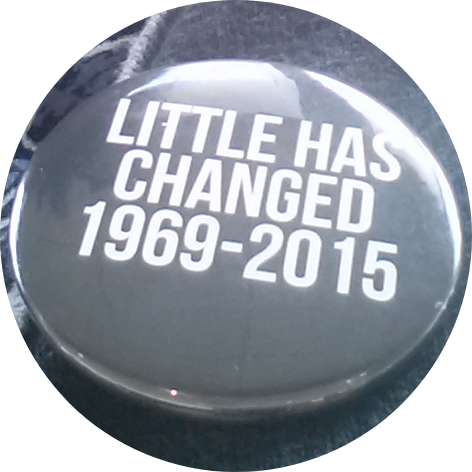 Jenia Brewington, the current president of the Black Student Organization (BSO) at Simmons also says some of the demands still need to be met. "A lot of the Demands still reign. A lot of them still don't hold water at Simmons," said Brewington. 
Brewington specifically cited demand two, which calls out a culture of "tokenizing" students of color. Tokenization is the act of recruiting or accepting people into a community and using them more as a "token" to create an illusion of diversity rather than actively creating a diverse, welcoming environment. 
Brewington said that one example of tokenization she has felt at Simmons is by being asked by peers and faculty to answer questions on behalf of her race. This is one of the many forms of subtle racism and microaggressions Brewington said she has experienced at the university.
Alex Bohanan, a Black Simmons alumna who was in the BSO in 2015 and was active in pushing the university to create the Multicultural Center following the 10 Demands, expressed similar sentiments about what she sees as a pervasive culture of racism at Simmons. 
"I didn't expect educated people to be aggressively racist," said Bohanan. She said incidents of discrimination perpetrated by professors motivated her to become involved in the writing of, and advocacy around, the 10 Demands. Bohanan is from Oklahoma, and assumed racism would not be as prevalent in Boston as it was in her home state.
"When I got to Simmons, I found lots of the same issues," she said, but noted that the racism she witnessed and experienced at Simmons was also layered in economic classism, which was a new experience for Bohanan.  
Bohanan feels that Simmons met the more "flashy" demands that would immediately impact students, like the Multicultural Center, while failing to address systemic issues at Simmons.
"When you don't address culture or people, nothing will change," she said. 
When asked if he thinks the 10 Demands of 2015 were met, Gary Bailey, a professor of practice and assistant dean for community engagement and social justice and co-chair of the new Advisory Council on Diversity, Equity and Inclusion, said it's not for him to say. He said the students who helped form the demands are the only ones who can determine that.
 "It's just not about counting things. It's about the affected pieces. How do people feel about their time, and were their visions met? We can check boxes. We have a Multicultural Center; box checked," said Bailey. "But do people feel better when they look back about what has been accomplished? And I think that that's going to be variable, I think depending upon the day you ask."
Collins is optimistic about Wooten's new advisory council. She noted that there have been multiple iterations of diversity councils during past presidencies, but the structure of this current council excites her. She appreciates how the president herself sits on the council, which wasn't the case in previous administrations. She feels that it integrates diversity initiatives directly into the daily operations of the campus.
Bailey, who has worked at Simmons for more than two decades agreed. The council "raises in prominence under her leadership in a way that it heretofore has not been" he said. "It's just been elevated with a certain gravitas in this administration."
Brewington agrees that this is a good first step for Wooten. "You can't fix what you don't know about. So I think that that's a really good way to sort of get her foot in there and try to start parsing things out," she said.  
On December 10, Wooten sent an email to the Simmons faculty, staff, and students with the subject line "A Commitment to Change."
 In the email, Wooten discussed the November 14 Ifill Forum commemorating Simmons' most prominent alumna, Black journalist Gwen Ifill. Following the forum, Simmons hosted a community reflection which included current and former students along with faculty members to discuss what Simmons can do to create a more inclusive environment for students of color. Brewington was on the panel and cited the challenges of being a student of color at Simmons. 
"When senior and BSO president Jenia Brewington told us that she sometimes feels Simmons was not built for her or with her in mind, it brought tears to my eyes," wrote Wooten in the email.
"We must do better. We can do better. We will do better."