Simmons students join nationwide Black Lives Matter protests
When Simmons senior Jenia Brewington arrived at Dudley Station in Nubian Square on May 31 for a Black Lives Matter protest, the first thing she saw was a line of policemen in riot gear behind a gate. 
"I immediately felt unsafe. It felt like — I just got here! This is real, here we are, there is nothing between me and this cop right now," said Brewington, a Nursing student and President of Simmons' Black Student Organization.
Protests have been occurring nationwide for the past two weeks in support of the Black Lives Matter movement after a Minneapolis man George Floyd was killed by police officers. These protests are in direct response to the systematic racism embedded in American culture, and are advocating for a change in law enforcement, including possibly defunding the police nationwide, according to the official website for Black Lives Matter.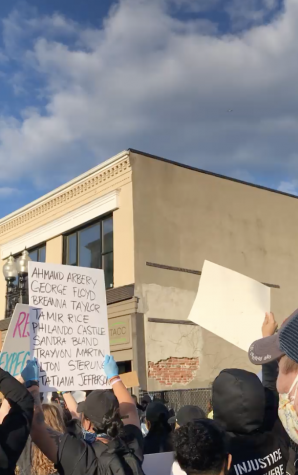 Professor Gary Bailey, Assistant Dean for Community Engagement and Social Justice, Professor of Social Work, and Director of the Urban Leadership Program, attended the same protest as Brewington. 
Bailey said he was "blown away" by the organization, attendance, and makeup of the march.
"When I joined the march in the South End there was a large number of Black/African Americans, but I noticed that a lot of those protesting were predominantly white; and it was very young," Bailey said. "That's the other thing that struck me. Those of us who are older, who were standing off to the side holding our signs– I just thought it was amazing."
Bailey said he was beginning to lose faith in the younger generation before the protest, but seeing the amount of college-aged and younger protestors changed his mind.
"I was becoming hopeless that young people didn't have the passion," he explained.
"For white young people doing this, Black Lives Matter, yes it's the right thing, but it doesn't make their life immediately better; it doesn't immediately change it. If anything it means they might have to give up some power," Bailey also noted.
Merrill Pecci, a white rising senior has attended multiple protests in Boston, including the one Brewington and Bailey attended. 
Pecci explained that the Black Lives Matter movement is something that they're very passionate about. "There's no reason not to show up," said Pecci.  "I felt like I have enough privilege where if I were to be arrested, I'd have resources. I'm willing to put my body in this space."
Pecci described the protest starting at Nubian Square as peaceful and well organized, citing protesters chanting, reading poetry and handing out snacks. There was a low presence of police along the route to the statehouse, according to Pecci. Brewington echoed this statement describing the crowd of protestors as "massive."
As the protest continued in front of the Statehouse, police presence increased, according to Pecci and Brewington. At that point, Brewington, who was in the Boston Common at the time,  left the protest.
A video Pecci took of the increased police presence in the Boston Common.
"There were a lot of cops, like everywhere, and it seemed like there were more coming, so we decided we were going to go," Brewington told the Voice.
Pecci saw the drastic change in police presence as well where they were standing at the corner of the Statehouse, with multiple police cars and a line of police in riot gear lined up in front of a group of protestors. On their way to the Boylston stop to catch one of the last trains before the MBTA bypassed service to downtown, Pecci said they saw the police use teargas on protestors.
Green Line: All trains are bypassing Arlington and Boylston until further notice due to a demonstration.

— MBTA (@MBTA) June 1, 2020
Hannah Madden, a rising senior and opinion writer for The Voice who has attended several protests in Washington D.C., gave similar descriptions of police presence at recent protests in the nation's capital. 
While biking from her apartment to the protest, Madden says she saw several police and national guard vehicles. 
On June 3, Madden says there came a point where it seemed as though the national guard and police outnumbered the protesters. At that point, Madden says she and many other protesters decided the safe decision was to disperse and go home.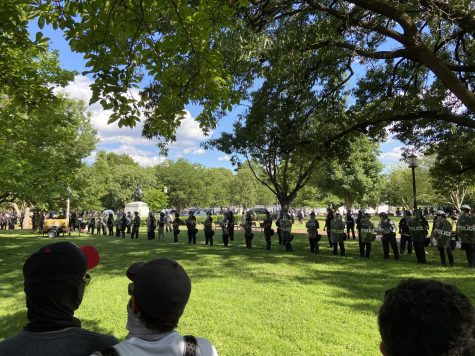 "There's no reason for me not to [protest] and I can't imagine being able to attend and support the movement and deciding not to. That doesn't feel right to me," said Madden. 
Brewington says her lifelong experience having conversations about race at predominantly white schools was a driving force behind her decision to protest. 
"I was never able to go to protests– my mom didn't even want me to go to this one because she was scared. There's a lot of fear of what could happen with the police, the crowds. You never really know what's going to happen," she said.
However, after the protest, Brewington was glad she went.
"It felt good to contribute, it felt good to be there, it felt good to see so many people feel the same sort of thing I was, even though we probably experience it differently," she told the Voice.