Simmons students to move out of residence campus after spring semester goes remote
Simmons is requiring all residential students to move out of their dorms by March 23, according to an an email that Student Affairs sent to students.
Students who are signed up to return to campus on Friday, March 13 and Saturday, March 14 are allowed to return to campus to begin to move out of their residence halls, according to the email. In accordance with CDC guidelines, these students should avoid gathering in large groups and maintain social distance from others.
"We are saddened that your academic year on our campus has come to a sudden close and we will not get to enjoy a Spring semester together as a Simmons community," the email from Student Affairs said. "We know that this decision is in the very best interest of our Simmons community and this disruption is the only way we can endeavor to keep you safe and healthy; but it still hurts and we recognize that you may be feeling sad, scared and anxious while being isolated from your Simmons family."
All students are required to fill out a mandatory check-out form by Monday, March 16, at 9 a.m.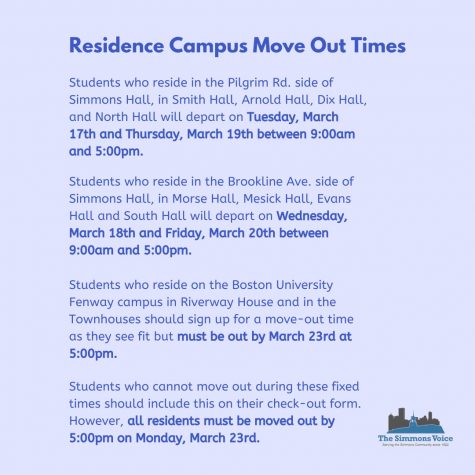 Students who cannot move out during these times should include this on their check-out form.  However, all residents must be moved out by 5:00pm on Monday, March 23rd.
All students should drop their keys off at the Res Life office after moving out between 9 a.m. to 5 p.m. or leave their keys in the designated key boxed in their residence hall lobby. Those living in the Riverway Residences should leave their keys in the Campus Card Office and those living in the Townhouses will receive further instruction from the Townhouse management on move out procedures.
In the email, Student Affairs stressed that students returning from a Level 2 or Level 3 area, which now includes all of Europe, must self-quarantine for at least 14 days. These students cannot return to campus within the 14-day quarantine window and must apply for an exception to move out outside of the set times.
This story is developing and will continue to be updated.