Scholand Finds Community in Athletics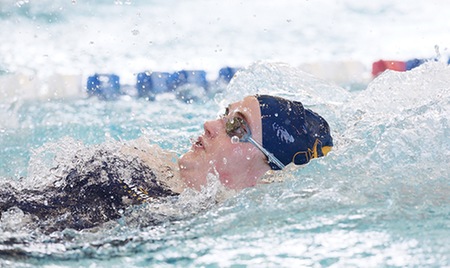 Distance swimmer Aine Scholand started swimming when she was four years old in summer leagues, then moved into swimming year-round at age six. A little over a decade later, the sophomore now holds the Simmons University record in the 1650-yard freestyle event. She finished with a time of 18:22:23, beating the previous record by 3 seconds.
Scholand isn't just a fantastic swimmer – she's also a transfer student who found a community at Simmons. She transferred mainly because of the Neuroscience and Behavior program, but meeting Coach Mindy was the seller. "After talking with her for a bit about training, and the school's environment, what the students were like here, I was sold," Scholand said. 
Her experience as an athlete at Simmons is nothing short of incredible, as she finds support from all angles. "The athletic trainers here very kind and encouraging, and obviously my coaches are truly remarkable individuals who support me as a whole individual," she said. "All of my professors have been very understanding when I need to miss a class for a meet or if I have some kind of conflict. Not only that but they have gone out of their way to help me countless of times in catching up, or to help me fully grasp a concept."
Even those students that Scholand encounters for the first time are encouraging and supportive of her. "My classmates are very kind," she said. "I get congratulated from my non-swimmer friends when I did well in a meet or received an award, which speaks volumes about the kind of community I have experienced here on campus."
Of course, Scholand never forgets about the unending support from her teammates. "My teammates are all incredible individuals and are so much fun to be around, I always want to perform well for them. Their energy always makes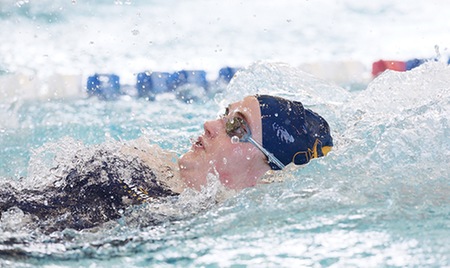 me excited to race with and against them." She credits them as her motivation throughout the 5-6 month season and consecutive 5:30 a.m. practices. 
In fact, getting to know her teammates is one of her favorite parts of athletics."While I do enjoy racing and competition, it would come in second to the fun things you experience in a team environment. For instance, we just had a week long inter-squad "meet" where half of our team raced the other half during practices. Some races were supposed to be goofy, so seeing personalities come out and shine is always so much fun. I always enjoy watching my team step up to hard challenges too, particularly in a meet setting. Watching everyone get fired up, screaming their heads off cheering, or putting everything they have into a race, it always motivates me to work harder. It's just so much fun watching them do their best."
While it may seem like all fun, Scholand notes that swimming comes with its challenges. "A large part of swimming revolves around your mentality," she explains. "You spend so much time in the water swimming, so you have a lot of time to think about what you're doing and if you're doing it right or not. For me personally, a lot of the time I get stuck in my head, and overthink everything. I tend to over analyze everything, and sometimes I judge myself very harshly even though I know I did the best that I could in the moment. I've been working with my coach to try and adjust that."
Outside of the pool, Scholand finds time to write and enjoys creating art, especially drawing, painting, and photography.