Take note: upcoming Boston concerts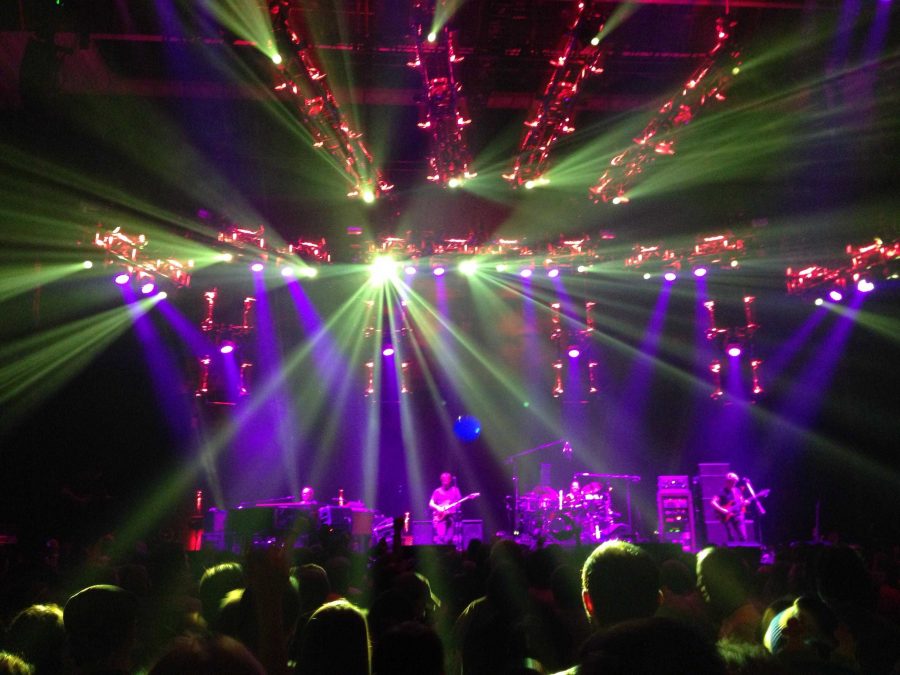 By Katie Sittig-Boyd
Staff Writer
Now that it's spring, and standing in line outside in below-freezing weather is no longer an unfortunate side effect of attending events, going to concerts can be—pun intended—cooler than ever.
Boston and its surrounding areas are home to several great music venues, and there are numerous upcoming concerts that look great–and, better yet, are within close proximity to Simmons. Even though finals season is creeping steadily up on all Simmons students, these shows can provide a good break from the studying.
For students who live on campus or will be traveling to concerts straight from classes, shows at the House of Blues are within short walking distance. Not only that, but there are also a lot of great shows coming up.
Fans of John Darnielle are probably already aware that The Mountain Goats will be performing on Tuesday, April 14. However, people unfamiliar with The Mountain Goats will appreciate the literary quality of the lyrics, eclectic musical backing, and Darnielle's politically aware and softly scathing sense of humor.
The show begins at 7 p.m., and the Ides of Gemini are also performing. Tickets are $25. Plus, The Mountain Goats' new album, "Beat the Champ," is up on iTunes as of Tuesday, featuring new songs like "Southwestern Territory" and "The Legend of Chavo Guerrero."
Over at the Paradise Rock Club on the same night, April 14, The Mowgli's will also be performing. An alternative band from California, The Mowgli's rose to acclaim in the indie/alternative community with their single "San Francisco" back in 2013.
The show also starts at 7 p.m., and tickets are $20 each. The event is open for all ages.
On April 23, folk-blues outfit Hurray for the Riff Raff will take the stage at the Paradise Rock Club. Formed by lead singer Alynda Lee Segarra, this New Orleans-based band is on tour supporting their first ATO Records release, "Small Town Heroes."
The show is for ages 18 and over and tickets are $20.
Although the show takes place during finals week, The Maine will be performing at the House of Blues on May 5. The band, which—incongruous with its name—is from Arizona, recently released a new album, titled "American Candy."
This show will start at 6 p.m., and tickets range from $20 to $30.
Additionally, bi-yearly music festival Boston Calling will take place the third weekend in May this year, May 22-24. Even though the festival takes place after the semester ends, since it will be held a full week after commencement, local students may still be able to make the trek to City Hall Plaza.
The lineup features several artists of varying genres and backgrounds, including My Morning Jacket, St. Vincent, Marina and the Diamonds, Gerard Way, and Tenacious D.
Boston Calling takes place on two stages, but they are close enough in proximity that concertgoers can still hear the artists performing even across the plaza. Three-day passes are available in addition to single-day passes.
Friday's lineup is a little shorter than those of Saturday and Sunday, featuring headlining artist Beck, along with Tame Impala and Sharon Van Etten, the latter of whom is currently on tour promoting her latest album, 2014's "Are We There?".
On Saturday, several talented musicians will take to the stage, including Gerard Way, whose first solo album, "Hesitant Alien," was just released last September. Marina and the Diamonds will also take to the stage, as well as St. Vincent and Swedish singer Tove Lo, whose album "Queen of the Clouds" was released in 2014.
Sunday's lineup includes The Lone Bellow, an indie-folk trio from Brooklyn; Halsey, self-described as a musician who "will never be anything but honest" and "write[s] songs about sex and being sad"; and the Pixies.
In addition to these concerts, there are many others taking place; check out upcoming concerts at the House of Blues, Paradise Rock Club, and also at smaller venues, such as The Middle East in Cambridge. Happy concert-going!