Mass. governor race a toss-up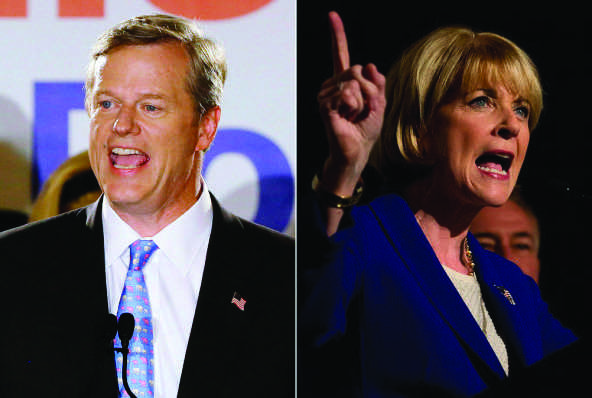 By Amanda Bibbins
Staff Writer
With elections right approaching rapidly, it's important to know the defining races that could determine the future of our political landscape.
Among the most pressing gubernatorial races is in Massachusetts. Democrat Martha Coakley, well known for being the Commonwealth's first female Attorney General, is running against Republican candidate Charlie Baker.
Baker is known as a successful businessman in both the public and private sectors, having worked as a CEO of Harvard Pilgrim Health Care and former Secretary of Administration and Finance under previous governors.
Although Real Clear Politics' poll average has Baker up by 4.5 points as of Sunday, the race has been declared a "toss up" by RCP, making this race among the most closely followed nationwide.
Real Clear Politics has 45 Democratic seats in the Senate listed as "safe or not up for election," and 45 Republican seats listed the same. This leaves 10 seats listed as "toss ups," and 51 seats are needed for a majority. 100 representatives are electedin the Senate, and two of these seats have been high-profile races for months.
In New Hampshire, incumbent Democratic Senator and former New Hampshire Governor Jeanne Shaheen is running against former Mass. Senator, Scott Brown. Brown's election to the Senate seat in 2010 after the passing of Senator Ted Kennedy surprised the country, as Kennedy held the seat as a Democrat.
In Kentucky, incumbent Republican Senator Mitch McConnell is fighting for the seat against Kentucky's Secretary of State, Alison Lundergan Grimes. The race gained attention early on for being on track to cost over $100 million. As of Sunday, RCP had the poll average with McConnell up by 4.4 points.
There are a total of 435 seats in the House of Representatives, and 218 are needed for a majority. In this upcoming election, of the two seats available in Massachusetts, both are projected to lean Democratic. Currently the Republican Party holds the majority, and it is projected to remain so after this election.
On Thursday, Oct. 30, from 8-9 p.m. in Evans Hall Basement, Democracy Matters will be discussing each of the senatorial and gubernatorial candidates and their main standpoints. A brief overview of each of the questions on this year's Massachusetts ballot will also be discussed.
On Tuesday, Nov. 4th, at 9 p.m., the Political Science/International Relations Liaison will host an election night viewing party in the first floor lounge of Simmons Hall to watch as the winners of the races are revealed.