Concert review: Annie DiRusso may hate this place, but I never want to leave
At times, it felt less like a traditional concert, and more like I happened upon some friends jamming out together.
During COVID, when in-person concerts were banned, artists found new ways to keep performing. Virtual concerts increased in popularity, bringing concerts to the bedrooms of listeners. On God, I Love This Tour, Annie DiRusso brings her bedroom to the stage. 
Not only is an image of the room projected behind DiRusso as she plays, but the set consists of a bed, side table, and lamp so the artist can perform in her bedroom, no matter where she is.
In a phone interview with the Voice, DiRusso said, "I love my bedroom, and I always kind of have… it just represents a lot for me." DiRusso explained she decorates her room in a way to represent herself, and uses it as a place to write her songs.
DiRusso began her tour on April 28, following the release of her new EP "God, I Hate This Place."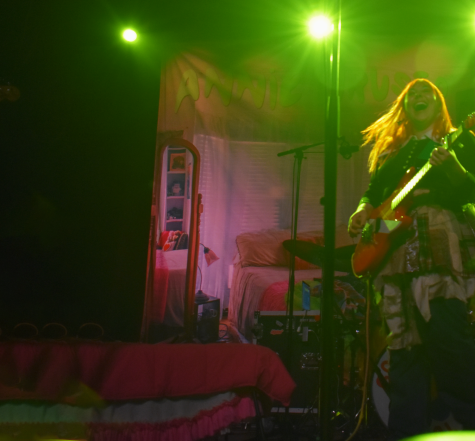 As DiRusso explained, "God, I Hate This Place" is the first project she's released. "It being a project allowed me to explore a greater meaning going through the songs, and the songs just to be about single moments rather than being all-encompassing of something," she said.
The 23-year-old singer-songwriter returned to the Sinclair in Cambridge as the headline act on May 7, after opening for Declan Mckenna at the same venue in October 2022. 
DiRusso began her concert with "Emerson," the first song off her EP. Immediately, her crystal clear voice cut through any extra noise in the venue. 
If there was anything DiRusso seemed to love more than performing for the crowd, it was just being onstage with her band. At times, it felt less like a traditional concert, and more like I happened upon some friends jamming out together. Trust me, that's a good thing. The joy from DiRusso and the rest of the band was infectious, spreading throughout the entire cramped room. 
DiRusso reflected on her friends and their role in the tour in the interview, saying, "Just getting to hang out with all my friends who are on tour has probably been the best part."
In between songs, DiRusso spent plenty of time interacting with the crowd. Whether it was singing happy birthday to a fan or complimenting the outfits of two others, DiRusso used every chance she could to show her fans how much she loved them. What she was doing was simple: having a conversation with the crowd. I've never been to a concert where that felt more genuine.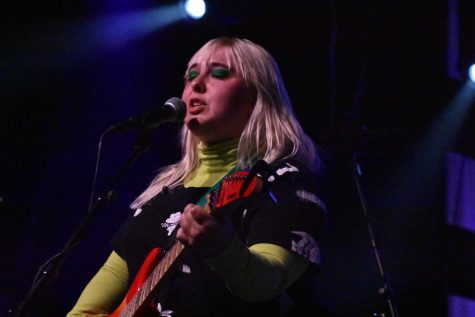 Throughout the concert, DiRusso navigated through her discography. Seamlessly shifting from song to song, DiRusso included fan-favorite older songs such as "Infinite Jest" while also performing every song off her new EP. 
The night was finished with the high energy song "Coming Soon." By the end, the crowd was full of fire and passion, just like DiRusso herself. 
Before leaving, DiRusso promised the crowd that it had been her favorite show on the tour so far, though she still has two months to top it. 
God, I Love This Tour ends on June 20, but DiRusso will be performing at Lollapalooza and the South Sound Block Party, both in August.