Phinista: A Homey Cafe a Step Away
Blue flowered wallpaper, the sizzle of sweet crepes on a kitchen griddle, and the smell of Vietnamese coffee all seamlessly blend together to create the homey atmosphere of the French Vietnamese cafe known as Phinista. Located less than a ten-minute walk from the residence quad on Peterborough Street, it's my new go-to brunch spot. My friends and I discovered it just before spring break and I've been back three times since!
For breakfast, pick from a small selection of sweet crepes, specialty brioche sandwiches, and parfait bowls. The crepes and parfait bowls vary often, which keeps me coming back. On one trip I had the spicy Fens, which is "Cage-free farm eggs (soft scrambled), caramelized onion, aged mild cheddar cheese, habanero aioli, on a toasted butter brioche." On another visit, I had a poached peach parfait with tart greek yogurt and granola topped with honey and an edible orchid flower. 
Most renowned are their crepes. During my latest visit, I had the Is This Heaven? crepe filled with a thin layer of custard, whipped cream, and strawberries and topped with whipped cream, cocoa glaze, and candied walnuts. To answer the question, yes, it was divine.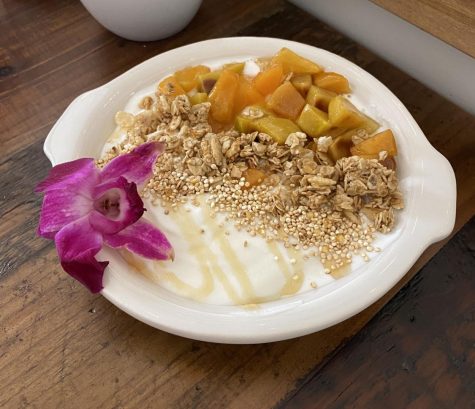 Equally delightful to pick from is their extensive menu of coffee, tea, and specialty drinks. Some of my favorites include the Espresso Rosé Latte, Phin Mocha, the Phin 50/50  which is a half robusta drip and half Oolong milk tea with condensed milk, and the dreamy blue Cloud 9,  an Oolong Milk Tea with marshmallow and house syrup).
Pair your drink with one of their fluffy brioche buns (think Korean Coffee Buns or Vietnamese Coffee Buns but with sweet crunchy Ube and Matcha toppings) and I swear you'll turn into a cloud.
Their lunch and dinner menu does not fail to disappoint either. Just recently, they provided grilled barbecue chicken and vegetarian lemongrass seitan bánh mìs for a Simmons Asian Student Association gala event. I ate the grilled barbecue chicken and it was beyond delicious.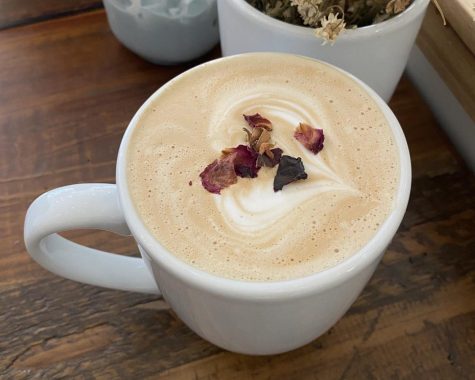 Whatever the time of day, Phinista is certainly there to satisfy your craving. The delicate blend of flavors in every item and little touches like the edible flower garnishes and perfectly drizzled glazes communicate a true love and dedication to their food. 
Phinista
96 Peterborough St.
Boston, MA 02215
Support their newest venture: Say Coffee Co. in Time Out Market
401 Park Dr.
Boston, MA 02215