Simmons celebrates President Lynn Perry Wooten's investiture
"Simmons should no longer be content to be quiet. This is our moment," said Wooten. "It's time to tell the Simmons story–our collective stories—loud and proud."
Olivia Ray, Arts & Entertainment Editor
April 11, 2022
The investiture of Simmons University's ninth president, Lynn Perry Wooten, was held in the Linda K Paresky Center at 10:30 am on April 11. Wooten specializes in crisis leadership, diversity, and inclusion, and is the first Black president of Simmons.
The ceremony opened with an electric violin performance by Wesley Morris, followed by a procession to Bach's "Cello Suite No. 1 in G Major" performed by Berklee College of Music Associate Professor Patrice Jackson.
A brief invocation was delivered by Reverend Julie Johnson Staples, JD.
Trustee Board Chair, Regina Pisa, opened with remarks with her first impressions of Wooten. "When President Wooten speaks of her leadership at Simmons, she does so as if it were her calling," said Pisa.
According to Pisa, the presidential hiring committee was so impressed with Wooten's ideas for Simmons that they changed the criteria of their search to match her vision.  
"She is a gifted, multi-dimensional leader who is grounded in both academics and business," said Pisa. "President Wooten, we have been waiting 120 years for you."
Martha Pollack, the 14th president of Cornell University and Wooten's former colleague delivered the keynote address. "We know that Lynn brings this high office the same compassion, keen intellect, and sound council that has served her over her distinguished career," said Pollack.
Massachusetts Senators Ed Markey and Elizabeth Warren and Congresswoman Ayanna Pressley also spoke at the event, with Ed Markey attending in person.
Markey compared Wooten's investiture to the recent confirmation of new Supreme Court Justice Ketanji Brown Jackson. "What an honor to celebrate these two firsts," said Markey.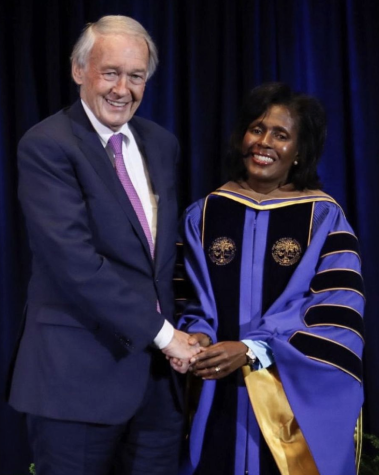 The President of New York City's The New School, Dwight McBride, a personal friend of Wooten, delivered a personal greeting. "I cannot imagine a person who more embodies this vision of Simmons than President Wooten," said McBride.
Simmons junior Tabytha Smith, a computer science major, seconded this observation. According to Smith, she rarely had strong female role models in computer science when she was growing up. She believes Wooten's leadership will lead to role models for the next generation's aspiring professionals.
"When Simmons leads, we become the representation we desperately wanted to see as kids," said Smith. 
Boston's first-ever Youth Poet Laureate, Alondra Bobadilla wrote and performed a poem for the investiture. Bobadilla posed a question to the "trailblazing" new president regarding how she plans to lead the Simmons community forward: "how do we lift as we climb?"
Wooten took to the podium at the end of the event and delivered a powerful message about furthering tomorrow's Simmons legacy with today's actions. 
"Simmons should no longer be content to be quiet. This is our moment," said Wooten. "It's time to tell the Simmons story–our collective stories—loud and proud."
The ceremony closed with a benediction delivered by Reverend Marshod Evans. 
Other speakers included personal greetings by Erika James, the dean of the Wharton School of the University of Pennsylvania, Priyal Goyal, Simmons Class of 2014 and Executive Board member, and student speaker Dante Turrell Davis Jr., Simmons Class of 2024 nursing major. Nnenna Freelon, Simmons Class of 1979 and 2022 Grammy Nominee, and Uzo Ngwu, a Berklee College of Music student, also performed.