Mold in Simmons dorms not toxic, but stresses residents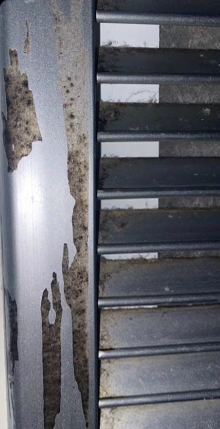 Olivia Ray, Arts & Entertainment Editor
October 19, 2021
Simmons University students living in Morse and South Halls reported mold growing in their dorm rooms during the last week of September. The results of an official spore test deeming the mold harmless were released on Friday, via email from Dr. Renique Kersh, Vice President of Student Affairs. 
Students alerted the Office of Residential Life to mold concerns through emailing the office and filing work orders. 
Ilenis Grullon, a first-year resident of Morse Hall fourth floor, emailed the Office of Residential Life on October 1, after they noticed mold in their room.
Grullon told the Voice that both they and their roommate had been experiencing what they felt could be symptoms of mold exposure–– including sore throat, cough, and difficulty breathing–– for almost three weeks at the time that their email was sent. Those symptoms are also symptoms of ailments like the common cold and neither Gullon nor their roommate went to the doctor. According to Grullon, these ailments were not unique to their room. 
Jade Tyra, a first-year student and contributing writer for the Voice, also reached out to the office of residential life via email. Tyra said that she and her roommate had also been experiencing mold exposure symptoms for multiple weeks. Again, neither resident went to the doctor.
Tyra was concerned with what she perceived to be "a lack of transparent communication" from the office. According to Tyra, Morse Hall residents were told that air-quality testing results would be made available to them by October 5. The absence of these test results prompted her October 6 email to Residence Life.  
Both Tyra and Grullon expressed feeling unsafe in their living environment. 
The Voice met with Kersh, along with the Vice President of University Real Estate Development & Facilities Management Laura Brink Pisinski, and Director of Media Relations Laura Wareck on October 15 to discuss the newly released spore testing results and student concerns. 
"It may appear that we moved quickly once the Public Health Department and others got involved, but we were already moving," said Kersh, in response to student allegations of poor communication. 
"There's a lot of stuff that happens behind the scenes, so I think that we did our best to communicate quickly when we had information that we knew would be helpful," said Kersh.
According to Brink Pisinski, reports of mold in college dorm buildings are quite common this time of year. "In the fall and the late summer, there are spores and there's stuff that is happening in the atmosphere," said Brink Pisinski. 
"There are mold levels everywhere–– outdoors, indoors. You will never see a level of zero," Kersh added. "But we did have TRC Companies test it to ensure that we were within normal levels and that the mold that was there was not dangerous or harmful." 
In addition to mold level testing, the university implemented a mold mitigation procedure. "We did an extensive cleaning. We did extra steps with cleaning that were recommended by the Boston Public Health Commission as well as by our external consultants," said Brink Pisinski. 
This mold mitigation policy has been implemented, but not all students are fully satisfied with this procedure. According to Grullon, they returned to their room about three days after filing a mold complaint to find their door unlocked, belongings disturbed, and mold completely gone. They reported receiving no notification that someone would be entering their room. 
"That's not our typical process. They should have received a notification. If that occurred it shouldn't have, and it is good for us to know," said Kersh, when notified of a Grullon's complaint.
Both Kersh and Pisinski recommended that students in similar situations reach out to their RA or the Office of Residential Life in order to have the issue resolved. 
In addition to the mold remediation policies Simmons already has in place, Pisinski and Kersh disclosed changes they are implementing to improve mold mitigation. 
According to Brink Pisinski, the air ventilation systems in dormitory buildings are extensively cleaned and reconditioned in the month of June, just after students move out for the summer. In future years, Brink Pisinski and Kersh said this cleaning will be pushed back until closer to the fall move-in date, in order to reduce the risk of mold growth in the first few weeks of the semester. Staff will also have additional responsibilities in preparation for move-in day. 
"Before move-in occurs in the fall, we will also make sure the RA staff is doing additional walk-throughs through all the buildings, through all the rooms, and anything we might need to address is addressed. We've covered all our bases," Kersh said. "It really is a big effort on our part."
Despite these risk mitigating measures put in place by administration, members of the student body still have concerns over their safety in their residential buildings.
"We've had lots of issues on the floor and no one has done anything," said Grullon. "Even if it's not mold, something is wrong on this floor." 
CORRECTION: Oct. 20, 2021
An earlier version of this article included information that did not meet the fact-checking standards of the Voice and lacked informations about mold symptoms.