Taylor Swift: The Re-recordings Era
The last 14 months have been lucky ones for Taylor Swift fans: Swift has released a Netflix documentary, a live televised concert from Paris,  two surprise studio albums folklore and evermore, and a Disney+ film entitled Folklore: The Long Pond Studio Sessions.
However, the most exciting new era of Taylor Swift's prolific career is one that has already begun. Her first re-recorded album, Fearless (Taylor's Version), was released for streaming and purchase on April 9th 2021 at midnight EST. 
It was the night things changed. Fearless (Taylor's Version) is out now: https://t.co/Sw5JzYR4cS pic.twitter.com/SoJRNdPfho

— Taylor Swift (@taylorswift13) April 9, 2021
Swift has been teasing the release of her re-recorded discography for over a year, following a painfully public ordeal that involved the sale of her master recordings to her abuser, Scooter Braun, which is best explained in her own words, in this summer 2019 post from her official Tumblr account.  Braun was Kanye West's manager when West organized a music video containing what Swift views as simulated revenge porn, and harassed Swift extensively on social media. 
"When I left my masters in Scott's [CEO of Big Machine Records] hands, I made peace with the fact that eventually he would sell them. Never in my worst nightmares did I imagine the buyer would be Scooter. Any time Scott Borchetta has heard the words 'Scooter Braun' escape my lips, it was when I was either crying or trying not to. He knew what he was doing; they both did. Controlling a woman who didn't want to be associated with them. In perpetuity. That means forever," Swift wrote.
Swift has announced that she will be recording each one of her six studio albums owned by Scooter Braun and Big Machine Records under her new label, Universal Music Group, as soon as she is contractually able. 
In February 2021 Swift announced that Fearless, her first number one album, which also won her Album of the Year at the 2010 Grammys would be the first to be re-released, featuring all 19 tracks from the platinum edition of Fearless (2008.) Her 2010 single "Today Was a Fairytale," in addition to six previously unheard "From the Vault" songs that were cut from the 2008 album. 
That February night, the lead single, "Love Story (Taylor's Version,)" was released. This announcement was accompanied by a new album cover, and Fearless (Taylor's Version) merchandise release, including apparel , CDs, vinyls, and cassettes. 
Many fans were filled to the brim with pride in the fact that Taylor would soon have ownership and autonomy over her work again, and also filled with nostalgia and excitement over the chance to experience an album that was formative in childhood for many Gen-Z and Millennial swifties, again for the first time.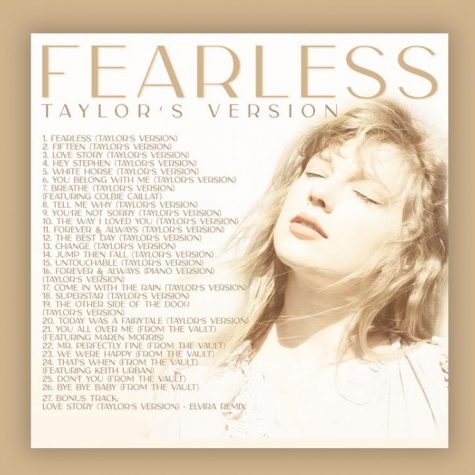 It didn't take long for fans to discover that the phrase "April Ninth" was hidden in Swift's album announcement. Not only would this be the day the album would be released, but the numerical date, 4/9, adds up the number 13, Swift's favorite lucky number, which became a special connection between her and fans during the Fearless (2008) era, and has been significant to fans ever since. 
Never one to leave her fans hanging for long, Swift released the first "From the Vault" song at midnight on March 26, 2021, a ballad called "You All Over Me" featuring country singer Maren Morris. Along with this came a remixed version of Love Story, "Love Story" (Elvira Remix.) Just days later a list of the vault track names was released. 
Fans speculate that her tenth studio album, a new record, will be released in 2022 in time for her to spend the summer touring. But until then, for the first time since 2008, swifties have re-entered their Fearless era.