COVID-19 suspended from March 12-April 1, "Enjoy your spring breaks!" says virus CEO
April 1, 2021
The CEO of COVID-19 announced at a press conference on March 12 that the virus' board of trustees moved to suspend the global pandemic until April 1.
"We decided that it's time to let people live a little bit," Miss Core Rona, the virus' CEO said at the conference, "Which is why effective March 12 to April 1 all coronavirus activities will be paused. Enjoy your spring breaks!"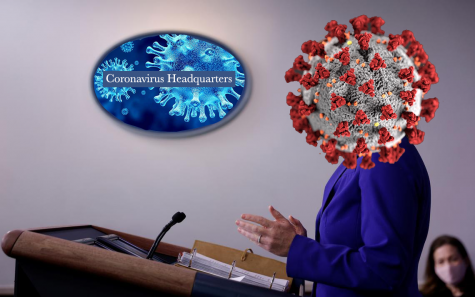 Anyone who is currently infected or contagious with COVID-19, per information from the CDC and WHO, will be COVID free thanks to this mandate. No one can infect or be infected with coronavirus during this time period as well.
Simmons students celebrated this announcement by traveling to popular spring break destinations in warmer climates, including Miami Beach, Cancun, and South Padre Island. 
"I was over the moon when I heard that coronavirus was stopped until April," Simmons third-year Hannah Banana said about her recent vacation to Florida. "I was going to go anyways, but it's so relieving to know that now it's going to be a truly safe vacation for me and my friends."
Frontline workers across the country are also rejoicing in this announcement.
While most college students will be somewhere warm for spring break, healthcare workers like 32 year-old Jane Smith, an emergency room nurse at Boston's Children's Hospital, will be using this respite in a different way. 
"I cannot tell you how happy I am we get a break," Smith said. "I have been working 50+ hours a week for the past year, watching countless patients die from this horrible virus. I can't wait to hug my mom."
The announcement also comes as the CDC director said in a White House her feeling of "impending doom" as the current numbers of new cases rise across the country.
"I was really concerned about the amount of people going on vacation, cities opening back up, folks not socially distancing properly and overall just not taking into consideration that we need to be careful now more than ever," the CDC director said in a recent interview. "Miss Rona's announcement couldn't have come at a better time."
The Office of Student Activities sent an email on March 13 to students who made both domestic and international travel plans.
"We are so happy for our Sharks that they get to have a well-deserved break," the email read. "Without this decision, we know that not as many of our students would have gone on vacation during the fourth wave of a global pandemic otherwise. Have fun!"