Simmons sends "Wellness Box" to motivate undergrads during remote learning
April 1, 2021
In a push to address student burnout and decreased productivity, the Office of Student Life sent all undergraduate students a "Simmons Wellness Box," equipped with everything students need to improve their online learning experience. 
In the box are a pair of "Shark Shackles," which are Simmons-branded handcuffs that can clip to any style of desk to help students stay motivated while doing their synchronous and asynchronous work. 
Also included in the box is an adjustable headset with "safe-shock" technology that senses when student's eyes wander from the screen, and delivers what the Office calls a "remote refresher."
"We were really inspired by shock collars used on dogs," the Office of Student Life said in an emailed statement. "We've added padding around the headset and adjustable straps to make it comfortable and accessible for all students."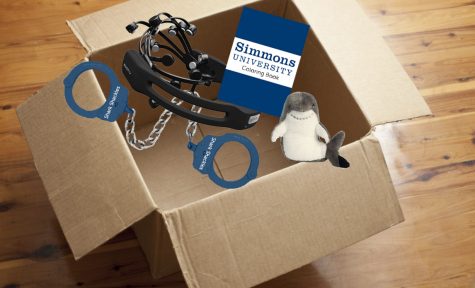 Students were also given the option to request a personal UFC fighter, dubbed a Motivator by Beating (MOB,) by the Office of Student Life. The MOB stands behind the computers of students in class and are trained to beat them up when the student's attention wanders from their work.
"I don't really remember much from the past few weeks, but I am so grateful to Simmons for these resources to help me with online school," said second-year Joanna Simmons from her hospital bed at Mass General, where she is being treated for head injuries sustained from her UFC attention keeper. "This wellness box has made online school so much better for me. And the hospital wifi is faster than mine at home."
"I'm a huge fan of the Shark Shackles," said third-year Evan Hall. "Even if my house was on fire, I wouldn't be able to leave my desk. I've started wearing diapers so that I can stay clipped into work for days on end."
Also included in the Wellness Box was a coloring book and a small Simmons shark plushie.
"We really want to give students a moment of rehabilitation that will help them to re-energize themselves for their work," the Office wrote.